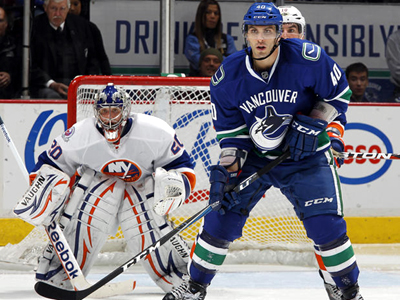 Vancouver - Nov. 14, 2011 - The Canucks showed up for the full 60 minutes tonight and got back up on the good side of the 500 mark with a convincing 4-1 over the New York Islanders by playing a disciplined, aggressive game. Tonight's game was the type of game they should have played on Friday night to come away with a win.

This was a game the Canucks needed to win convincingly, and they accomplished that goal with flying colors as they played a complete penalty free game and dominated the lowly Islanders who are still searching for their first road win. It was nice to see the Canucks come out and start a game with the "it's not going to happen tonight Isles," attitude as Aaron Rome continued his freakish scoring streak by opening the scoring at 1:57 of the first period.

Is this the game that signals the start of the parade planning? Hardly, and its far from it! The Canucks were expected to win this game, and win it convincingly because the Isles suck. But hey, so do the Ducks and look what happened on Friday. The important thing about tonight's game was to see how the Canucks responded to Friday's lack lustre performance, and by all accounts they answered their critics pretty well.

It was nice to see Cody Hodgson score after all his hard work. Hodgson seems to be getting better with each game. He may not score or get an assist, but he always seems to be in the play, trying to make it happen rather than waiting for the play to come to him. He finished the game with a power play goal as well as an assist on Rome's goal.

Luongo had a good game tonight as well, but lets remember the Isles aren't exactly chock full of natural goal scorers! He did make a statement save against Michael Grabner by flashing the leather on a shot that was earmarked for the upper corner on his glove side, but Lou wouldn't have any of that. He also saved a sure goal by using his head, literally in the third period, by taking a puck off the ol' bean to keep the score at 3-1. David Booth also scored his second goal of the season with an empty netter to make the score 4-1.

I know the Isles were desperate for a win, but was it really wise to pull their goalie with over 3 minutes left in the period? I mean really, why didn't they just say "look, we suck so here have a free goal!"

So I'm not going to get too excited about this win, because as I've said before the Canucks were expected to win this one. If they didn't, then there would be some serious questions that would need to be asked about the heart and identity of the Canucks, but rather lets see what they bring for Wednesday's game against a tough, hated rival the Chicago Blackhawks.