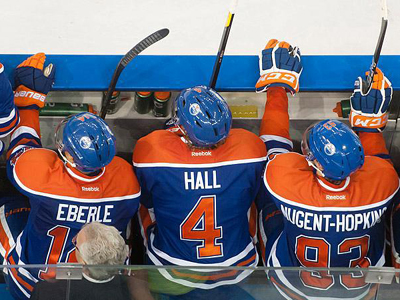 Edmonton - Nov. 4, 2011 - I was fairly confident heading into the 2011-2012 campaign, that the Edmonton Oilers would be able to compete for a playoff spot, if they could remain relatively healthy. When you consider, that Edmonton have had Ales Hemsky play all of four periods this season and Ryan Whitney play three games and a bit, it makes the Oilers hot start even more remarkable.

Not even the most die hard of Oiler fans would have predicted them to start the season off 8-2-2 and given Edmonton's injury situation, it would have surprised no one if they would have been sitting near the bottom of the Western Conference standings. To their credit, the team has found a system that is working for them and everyone has bought in, young and old. The players that have been here for awhile, are sick of losing and they want to turn this thing around now...not in two or three years. While I don't expect the Oilers to continue at their current pace, make no mistake, these guys are for real.

Edmonton's turn around has everything to do with the teams willingness and commitment to playing a solid defence first game. The Oilers currently have a forward group that have bought in and are suddenly willing to come back and sacrifice in order to help out their defence and goalie, on a nightly basis. They are sound positionally and suddenly seem to have structure to their game. You no longer see the fire drill defending that became common place in front of Edmonton goaltenders over the last few seasons. Led by the pairing of Tom Gilbert and Ladislav Smid, the Oilers defence have been nothing short of brilliant this season. Smid leads the league in blocked shots, Gilbert has been an absolute horse and has played in all situations for club. Add to that, the out of nowhere performance from AHL veteran Corey Potter and strong to decent play from the rest of the group and you have a blueline that can't play any better. Considering that Whitney has had nothing to do with this turn around, it isn't much of a stretch, to think that these guys will be that much better when their top guy returns to the lineup, healthy and itching to go.

Upfront, the Oilers have rode the hot play of two lines, one filled kids and the other with vets, but they have had little support from the bottom six. When you consider this team has a roster that currently has eight players with zeros next to their names in the goal column, it may actually turnout to be a good thing for this club. I can't see Magnus Paajarvi playing all season and having no points or Sam Gagner and Eric Belanger both going goal-less the entire year. The top two lines will go through dry spells at times this season and the team will need scoring from their bottom six. Considering none of them have been able to do that as of yet, the law of averages say they will at some point. Also, remember this team is missing their best player upfront in Hemsky.

Once the talented Czech returns, this lineup will have the potential of three scoring lines. With the Shawn Horcoff, Ryan Smyth and Ryan Jones line playing well, I would expect Hemsky to start off on a line with Gagner and Paajarvi. The talented forward will still see time with Smyth and Horcoff at times and could play with the kids, on occasion. Regardless of where he plays, the depth that Hemsky's return will bring to Edmonton's lineup, will make them a team that opponents will not enjoy playing. If clubs decide to put their top checking units on the kids, then Hemsky and company should have their way against softer opposition. If they decide to go the other way, the kids have shown what they will do against teams second and third units.

That brings us to the netminding, which has been down right ridiculous. No one can expect the numbers Nikolai Khabibiulin and Devan Dubnyk to be maintained throughout the season but as long as the two don't fall off the face of the earth, Edmonton's goaltending should not be an issue. Dubnyk's game seems to be taking the next logical step in his development as an NHL goalie but it is the veteran Russian netminder that is turning heads. I have said for months, that a bounce back season from the former Tampa Bay goaltender would occur so I am not surprised in the least. The puck is looking like a beach ball to Khabibulin at the moment but it is his overall positioning and reaction time, that is night and day compared to last season. The duo will both see plenty of time this season and their play will go a long way in determining how successful the club will be.

The Edmonton Oilers fast start, has given the club a legitimate shot of making the Stanley Cup Playoffs for the first time since their run to the 2006 Finals. With the play of some of the Oilers young forwards, Edmonton suddenly have some very attractive pieces that the club could use in possible future trade proposals. Be it a Linus Omark, Hemsky, Gagner or a Theo Peckham, the organization now have pieces that they can seriously consider moving, to find that missing piece of puzzle on the backend.