| | |
| --- | --- |
| | |
For Habs to be successful against the Oilers, Price needs to be stellar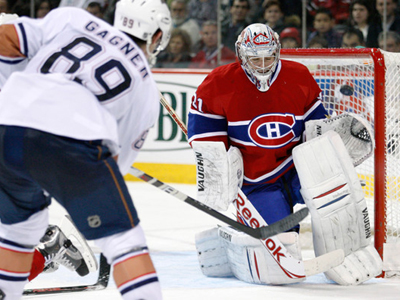 Edmonton - Nov. 8, 2011 - Rob Soria provides his game day preview from an Edmonton perspective, as the Edmonton Oilers head to the Bell Centre to take on the Montreal Canadiens. The Oilers are 8-3-2 and are lead by Ryan Nugent-Hopkins and Montreal are 5-6-2 and are lead by Max Pacioretty.

Projected Line Combinations
Hall - Nugent-Hopkins - Eberle
Smyth - Horcoff - Jones
Paajarvi - Belanger - Gagner
Petrell - Lander - Eager

There is a chance Ales Hemsky will be inserted back into the lineup but nothing has been confirmed as of yet. Hemsky passed Tom Renney's fitness test and says he is ready to go but it's up to the coaches. The Oilers may want to have him practice a few more days before coming back but I hope he gets back into the lineup tonight. Perfect scnerio, is play him against the Habs, have him sit against the Bruins and play against the Wings. That way he isn't forced into a back to back situation and you rest him against the more physical team. If Hemmer goes in, you would think that Anton Lander would come out with Sam Gagner moving back into the middle but we shall see. Hemsky was with a few different line combos at yesterday's practice but not surprisingly, he spent the majority of time alongside Shawn Horcoff and Ryan Smyth.

Defence Pairings
Gilbert - Smid
Potter - Petry
Peckham - Teubert

Like Hemsky, Cam Barker passed the coach's fitness test and declared himself fit and ready to go. If Barker goes back in, look for the club to re-assign Colten Teubert back to Oklahoma City. He was solid in his two games and if as long as Petry stays with the big club, Teubert will be the first call up on the back end.

Netminder
Nikolai Khabibulin will get the call in goal for the Oilers and after a sub-par performance from Devan Dubynk against Phoenix, the veteran netminder can take a stranglehold on the starters spot with another strong performance. If Khaaby is good against the Habs, I full expect him to go against the Bruins and then go back to Dubnyk against Detroit.

Montreal Notes

The Canadiens are led upfront by one of the most under rated players in the league, in Tomas Plekenac. The talented centre leads the club with 12 points and already has two game winners on the season. As inconsistent as the Habs can be upfront, the one thing you can always count on is a strong game from Plekenac.


While Carey Price hasn't been bad this season, he has been wildly inconsistent. It seems night to night you could get either version of Price. Be it last years wall that led the Canadiens to the playoffs or the version from 2009-10 that lost his starting spot Jaroslav Halak. The young netminder is one of the best in the business when he is on and for the Habs to be successful, Price can't have many off nights.


Defenceman P.K Subban is having his troubles to the start the season but it is not because of a lack of effort. The talented blueliner needs to not simply slow the game down. He has all the tools in the shed but when he tries to due everything on his own, it has a less then desired effect on the club. He still logs a ton of minutes but has little to show for it. Three assists in thirteen games is not good enough.


Despite having two goals in his last four games, former Oiler Erik Cole looks like the same player that Edmonton fans saw during the 2008-09 season...which is nothing like the version of Cole that shows up when he pulls on a Hurricanes jersey. Whatever the reason, he struggles mightily when he is out of Carolina and the Canadiens are praying that he finds his form or that four year, $18 million deal he signed will not soon be forgotten by the Montreal faithful.


The biggest omission from the Canadiens, is without question defenceman Andrei Markov. When healthy, Markov is one of the best blueliners in the league and is arguably the best power play quarterback in the league. The problem is, Markov has turned into Sami Salo in recent years and is incapable of staying healthy. To make matters worse, the Habs signed the talented Russian to a three year, $17.25 million deal in hopes of having a healthy Markov return to the lineup...he has yet to play a game this season. They are hoping for a return by late November but at this point, who really knows.
8,399 Stories & Growing Daily...
To date OurHometown.ca has posted a total of 8,399 stories! News, sports, hockey, lifestyle, opinion and more!

Be sure to check out our Contributors and Columnists archives!
Click on Photo or Story Title for more info
OurHometown.ca News Database Last Updated:
Dec. 31, 2021 @ 8:03 AM EST