| | |
| --- | --- |
| | |
Bruins too much for Oilers in Taylor vs Tyler battle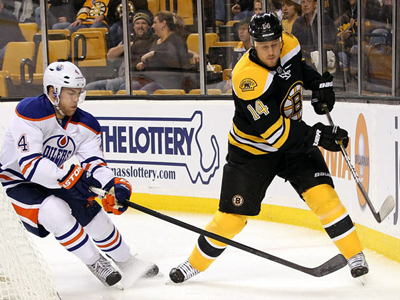 Edmonton - Nov. 11, 2011 - The defending Stanley Cup champion Boston Bruins, were simply too much for the surprising Edmonton Oilers to handle on Thursday night. The suddenly hot Bruins, were led by a pair of goals from playoff hero Brad Marchand in defeating the Oilers by a score of 6-3. Oilers forward Ryan Smyth continued his strong play scoring two more times, giving him nine on the season.

In what was billed as the Taylor vs Tyler battle, the two youngsters both managed to find the score sheet but it was the overall presence of the Bruins that was the theme of the night. Boston opened the scoring on a blast from Johnny Boychuk, that beat a screened Devan Dubnyk, after the Smyth - Horcoff - Hemsky line were unable to get out of there own end. Just over a minute and a half later, Jordan Caron gave the Bruins a 2-0 lead on a lucky bounce in front and it was a goal that Dubnyk would like to have back. To the Oilers credit, they struck back quickly and managed to even the score at two. Smyth scored his eighth of the campaign on a deflection and then Ryan Nugent-Hopkins fired his seventh goal of the season past Tuukka Rask on a beautiful feed from Taylor Hall. The teams hit the intermission tied at two but that would be as close as the Oilers could get on the night.

Boston scored twice, before the second period was seven minutes in, Marchand on the power play and Seguin on another lucky bounce, and just like that it was 4-2. The Bruins carried the play for the rest of the second and started to dominate the game physically, even though the "Hit" count would till you something different. Apparently the Oilers out hit the Bruins 17-15 on the night but in actuality, Edmonton was dominated physically all night long.

Smyth scored his second of the night, on the power play, with just under five minutes to play to give the team some life but that was short lived. Cam Barker took a bonehead cross checking penalty less then two minutes later and the Bruins quickly put an end to the comeback attempt on a pretty passing play that was finished by hulking forward Milan Lucic. Less then a minute later, Marchand potted his second of the night, on a quick snap shot, to close out the scoring.

The Good

Ryan Smyth continues his resurgence with another two goal performance. The veteran worked hard all night long and continues to be rewarded for going to those tough areas. Much like Nikolai Khabibulin's 0.98 GAA, Smyth won't maintain his point a game pace but it's nice to see...however long it lasts.


One thing this team does not do is quit. After heading into the third down a pair and a date with the Red Wings on the horizon, many teams would have mailed it in for the final twenty but not the Oilers. They managed to get the lead down to one but a dumb penalty, robbed them of a chance to tie it up late and possibly stealing a point.

The Bad

Dubnyk needed his next start to be solid and he was anything but against the Bruins. While he looked good the first five minutes of the game, that second goal he let in was good awful and just like the goal he let in against Phoenix, it turned the momentum. Difference being, the Oilers managed to even things up this time but Dubnyk was unable to make a big save when his team needed it. While he didn't have much chance on the Marchand deflection goal, his positioning was terrible, as he once again drifted from the blue paint and lost his net. Seguin's goal was a bad bounce but he was again out of position and swimming all over the ice. He's obviously lost some confidence in his game of late and for the time being, he should be starting no more then one out of every four or five games. The stats are no longer close, so it's time to start riding Khabby...without over doing it.


Ben Eager is in the lineup to add a physical element to the Oilers game but the only time you notice him on the ice, is when he does something that hurts the club. Against Montreal he lost control of the puck near the Oilers bench and it led directly to a too many men penalty because he wouldn't simply dump the puck in the Habs end. Last night, the only time I noticed him, was when he made an awful pass in his own zone that caused the Bruins second call, though Dubnyk didn't help. That being said, if Eager isn't going to use his speed and be a physical presence, then he shouldn't be in the lineup. As mentioned earlier, the hit totals are not always accurate in this league but Eager has been credited with all of eight hits this season and none in his last six. Can you say press box?


Cam Barker wasn't terrible on the night but that selfish penalty late in the third, should buy him a spot in the press box against the Wings. Andy Sutton's suspension is done so he can slide right into the lineup. These guys have to realize that stuff isn't acceptable and that message needs to be sent.
8,399 Stories & Growing Daily...
To date OurHometown.ca has posted a total of 8,399 stories! News, sports, hockey, lifestyle, opinion and more!

Be sure to check out our Contributors and Columnists archives!
Click on Photo or Story Title for more info
OurHometown.ca News Database Last Updated:
Dec. 31, 2021 @ 8:03 AM EST