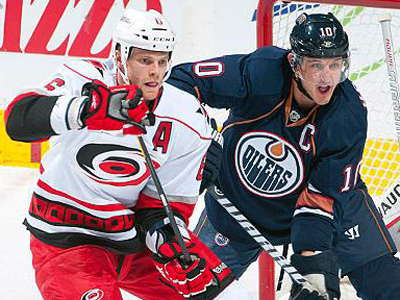 Edmonton - December 8, 2011 - The Edmonton Oilers came into last night's game, on the heels of one of the clubs most disappointing losses of the season. One would think, having the struggling Carolina Hurricanes as their next opponents would have been a good thing...think again. After three days off, the Oilers proceeded to come out and play their worst game of the season. The Eastern Conference cellar dwellers, came into Edmonton's barn and thoroughly dominated. From start to finish, the Canes were the better team and were rewarded with a well earned 5-3 victory, against a beleaguered Oilers team.

Right from the drop of the puck, Carolina came hard and Edmonton looked confused and disinterested. If not for the goaltending of Devan Dubnyk, the Oilers would have been down a couple, early in the first. The Hurricanes thought they had opened the scoring, when winger Chad Larose knocked in a rebound after stripping a bewildered Ryan Smyth of the puck, behind the Edmonton goal. Luckily for the Oilers, the goal was called back when the "War Room" in Toronto deemed that Larose kicked the puck past Dubnyk. The breaks kept coming for the home side, when less then three minutes later, they opened the scoring on a very similar play.

Eric Belanger was credited with his first of the season, when he skated into the Hurricanes crease and knocked the puck loose, with his skate, and past Carolina netminder Cam Ward. The goal was reviewed but it was allowed to stand. They had played just over half the period and Edmonton was up 1-0, despite being completely outplayed. Before the period was out, the visitors would receive a fortunate bounce of their own.

While shorthanded, defenceman Jeff Petry cleared the puck around the boards and it some how ricocheted off the glass, behind the Oiler goal, and dropped over the net on to the stick of Jeff Skinner. The youngster wasted little team firing a shot between Dubnyk's legs and just like that, the score was 1-1.

The second started out much like the opening period but this time, Dubnyk could not come up with the big save...or any, for that matter. As good as the Oilers netminder was in the first, he was equally as poor in the middle frame. In his defence, Edmonton did little to help their goaltender out but you need the occasional save from you goalie and Dubnyk didn't get it done in the second.

Carolina scored three times in a span of eleven minutes, to jump ahead 4-1. Defenceman Jamie McBain fired a bullet over Dubnyk shoulder, on the power play, to give the Canes the lead at the 4:36 mark. Just over seven minutes later, Patrick Dwyer scored his fourth on the season after depositing a pretty feed from Eric Staal past the out stretched Oilers netminder. Larose ended the goal parade, shorthanded no less, when he broke in on a 2-on-1 and fired a shot past Dubnyk. That goal was the low point of the night, as veterans Smyth and Ales Hemsky decided to gingerly make their way to the Oiler bench on a line change and hence creating the odd man rush for Carolina.

Edmonton would get one back, just nine seconds later, when Ben Eager broke in on Ward and poked in his own rebound, for his first goal as an Oiler. That made it 4-2 heading into the third, with the momentum seemingly back on the side of the home team.

Tuomo Ruutu restored Carolina's three goal lead, at the 3:43 mark of the third, when he snapped a quick shot past a stunned Dubnyk. What seemed like a harmless situation, turned into goal number five, when both Smyth and Shawn Horcoff decided to cover open space, instead of Ruutu...who was situated between the two confused Edmonton forwards.

At the 7:19 mark, Skinner was awarded a penalty shot after defenceman Theo Peckham chopped the sophomore down, from behind, on a break away. Dubnyk managed to stop the talented Hurricane winger and the Edmonton had life once again.

After failing to convert on their power play and successfully killing off a full two minute 5-on-3 Hurricanes man advantage, the Oilers cut the lead to 5-3. Rookie Ryan Nugent-Hopkins, slipped his thirteenth of the season past Ward, after taking a nice feed from Sam Gagner. With just over six and half minutes to play, Edmonton still had a chance to salvage something from this game but they could not kept the job done.

The Oilers will complete their lengthy six game home stand on Friday night, against the Colorado Avalanche. The club currently sits with a less then stellar 1-3-1 mark, through the first five games.


The Good
The fourth line was solid all night long and Ben Eager not only scored his first of the season but was engaged physically. He was credited with no hits on the night but threw at least three and was called for charging in third on what was a solid clean check on defenceman Bryan Allen. Anton Lander was alright in is return and Lennart Petrell did what he does but it was easily Eager's best game as an Oiler.
Much like the fourth line, the third unit was pretty good on the night and finally saw one of it's two goal-less players find the back of the net. Eric Belanger managed to get a cheap one to end the drought and he seemed much more relaxed, the rest of the night. When you get two goals from your bottom six, you should not be losing...especially not to a team like Carolina.
Andy Sutton was a force all night throwing number of big hits. The hulking blueliner was engaged from the get-go, which you could not say about too many of his teammates. Sutton always boarders on that line of being cheap or barely legal with his hits but that is who he is. The Oilers knew that when they traded for him so they have to live with the odd penalty or suspension.
It was not a great night for the Ryan Nugent-Hopkins - Jordan Eberle duo, as they appeared to have a bit of a wall in recent games. While everyone knew they would not be able to keep up their torrid pace all season long, they are still managing to find a way to put up points on a nightly basis. That's what good first lines do. They are finding ways to contribute, despite not having their "A" game.
Taylor Hall is making progress and will likely be ready to go in a weeks time, when the Oilers take on the Phoenix Coyotes. While Hall's play has been inconsistent for much of the season, when # 4 is not in the lineup, this team is completely different and much easier for opposing teams to play against.
Tim Gleason looked very good last night for the Canes and I still think he should be who the Oilers target to upgrade their backend. He played 23 minutes was solid in his own end, picked up a helper and came to a teammates defence when Sutton nailed Jeff Skinner. That sure sounds like someone that would make the Oilers D a whole lot better.


The Bad
If I were to use one word to describe Ryan Smyth's play last night, it would be awful. Smyth has been average to poor for this entire home stand and the final two games of the last road trip. It has nothing to do with his production but rather his decision making out on the ice. Be it taking penalties at the worst possible times or being regularly stripped of the puck or making poor line changes, like last night. He doesn't seem like the same player he was earlier in the season and that should be no surprise to anyone. He's not that player and never has been. That being said, the reason Smyth currently looks like he is skating with 20 lb weights around his ankles, is very simple...he is tired. It obvious to anyone with two eyes in their head that he's fatigued. Once Hall gets back into the lineup, the should probably cut back Smyth's ice time to around 15-17 minutes a night, as a max, and let him recharge his battery. People seem to forget that # 94 is thirty-five years old and not twenty-five.
Like Smyth, both Shawn Horcoff and Ales Hemsky were very poor on the night. In my opinion, Horcoff is in the same boat as Smyth. He plays far too many minutes and some nights it really shows. Shawn is one of those players that will look brutal for a game or two and then look really good for a couple. If they could somehow find a way to keep him just under the twenty minute mark on a nightly basis, he would be far more consistent and effective. As for Hemsky, he just seemed disengaged from the start and it's becoming tiresome to watch. If you get the motivated Hemsky all is good but if you don't, he is pretty much useless out there. I really think decision time on Hemmer is a lot closer then many think. I honestly can't see this dragging out all the way to the trade deadline.
Devan Dubnyk simply wasn't good enough. He was great in the opening period while receiving next to no support from his team. That being said, you can't let in three goals on five shots, when the game is tied to start the second period. He has to get back to making the big save when this team needs it or he won't get much time...unless it is to spell Khabibulin.
It's clear that Ryan Whitney is still struggling to find his game and the fact that this management is doing nothing to improve this teams D, is a little alarming. It's been the same thing for weeks now. They look like they are in constant fire drill mode in their own end. Peckham and Petry seem like they are about to make a huge blunder at any moment and even Tom Gilbert and Ladislav Smid have had their play slip of late. Like Smyth and Horcoff, they are tiring and need help. The Oilers have to shore things up on the blueline and in a hurry. It's effecting all aspects of their game, five-on-five and special teams. If they think everything will be ok once Cory Potter returns, they are kidding themselves.