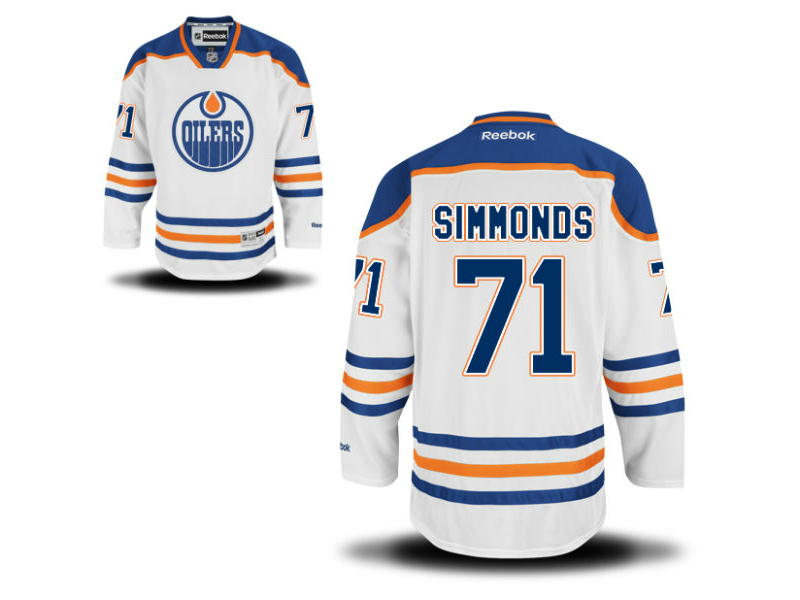 Stoney Point - November 11, 2013 - Both the Edmonton Oilers and the Philadelphia Flyers have gotten off to a horrible start. The Flyers fired their head coach Peter Laviolette three games into the season, and still sit 27th in the NHL today. Many are questioning the Dallas Eakins experiment in Edmonton. The Oilers once again have a shot at the first overall pick, sitting 29th in the 30 league team.

There has been much speculation about the Flyers and the Oilers pulling off a deal – one that would see Wayne Simmonds end up in Edmonton and Ales Hemsky on the move to Philly as part of a larger package. Hard to believe that Flyers GM Paul Holmgren would be that motivated to move the rugged Simmonds.

Simmonds scored a career high 28 goals in 2011-12 with the Flyers and I think he would be a great fit with the Oilers – a team who could use some grit. Jari Kurri's number 17 is retired in Oil Country, so perhaps Wayne Simmonds could wear #71.

Seems to good to be true for MacT! If there is substance to it…Start the Car! Start the Car!

OTT IN BLUE AND WHITE? - With both Dave Bolland and Tyler Bozak on the IR and expected to be out of the line-up for some time, the Toronto Maple Leafs are apparently out shopping for a centre. Rumors have been circulating that Stoney Point native and Windsor Spitfire alumni Steve Ott might be a possibility. While I think Ott will be a good fit, he comes with a cap hit of $2.95M and is an unrestricted free agent in July. I don't see this deal happening.

BRYZ TO OKC – The Edmonton Oilers have assigned newly signed goaltender Ilya Bryzgalov to the Oklahoma City Barons for conditioning. It is expected the Bryzgalov will be up with the Oilers in a week or so. Bryzgalov will wear #33 down on the farm, despite his familiar #30 being available. Richard Bachman wears 30 in Edmonton and Steve MacIntyre wears 33, so unless one of those guys give up their number, Bryz will have to wear something else. It wont be 31 as that number is retired for Grant Fuhr. Let's guess number 29.

FRIENDLY CONFINES? – Harry Neale once said that his Vancouver Canucks couldn't win at home and the kept losing on the road and that his biggest failing as a coach was that he couldn't figure out another place for them to play. The First Niagara Centre has not provided any home ice advantage for the Buffalo Sabres who are winless there in the team's first nine home games. Must be getting expensive for the guys who bet on the team to win a game during a home stand… or four!

LEFT WING CHALLENGES – In my fantasy pools, each team must dress two Left Wingers each week and this season is proving tough to keep guys on the left side healthy. In one pool with the Bulldogs , I have Taylor Hall, Rick Nash, Filip Forsberg, Nikolai Kulemin and Cory Conacher. Nash is on IR, Hall and Kulemin have missed time, Forsberg is in the AHL and Conacher probably should be. In my second pool with the Raiders, I have Alexander Ovechkin, Patrick Elias, Forsberg and Dany Heatley. Ovechkin is playing well but has missed time, Elias is on IR, Forsberg in the AHL and Heatley is working on his KHL contract for next season. In my final pool with the Bears I have Daniel Sedin, Thomas Vanek, Jeff Skinner and Heatley. Sedin is performing below his usual point a game pace, Vanek was out of the lineup yesterday, Skinner is on IR and Heatley sucks in this pool too! Sadly, I can't seem to find a dance partner to make a deal for LW help.

TOP TEN IN TO – The NHL Season is 20% over and the Toronto Maple Leafs are tied for 10th in the league. Not a bad start at all!

LEST WE FORGET - Today is a day to Remember, today is a day to say Thank You. There are thousands of Canadian fathers, mothers, sons, and daughters involved in the conflicts of today, who put everything on the line to stand up for what they believe in – the values that we as Canadians hold dear. For the rest of us who owe our freedom to the service of both the past and present generations, it is our duty to support and remember. Today, I will be remembering and saying thank you to our veterans and Canadian Armed Forces.