SHORT SHIFT - Three good guys, put 'er there!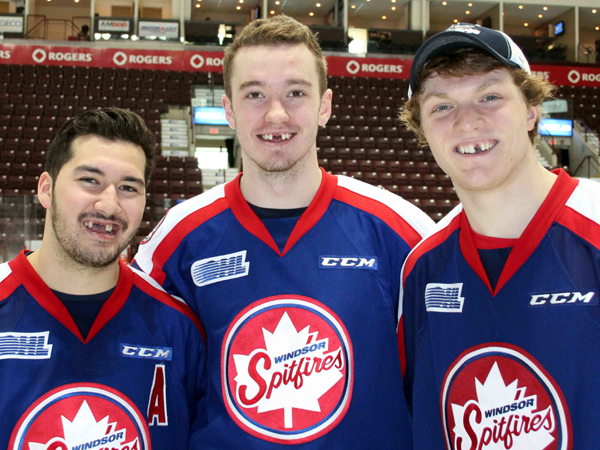 Windsor - Mar. 1, 2015 - Every once in a while, you think of a cool shot that you'd like to take. When three of this season's Spitfires lost a few of their of their chiclets I thought I'd ask them to get together and give me a big smile. The fellas were kind enough to oblige me this afternoon. In separate incidents this year, Jamie Lewis lost three, Hayden McCool lost two, and Luke Kirwan lost one. Thanks for humouring me, guys!
---
---

---
---

3,460 Hockey Stories so far,
and Growing Daily!
#
PLAYER
TM
GP
PTS
PPG
&nbsp
Antropov, Nik&nbsp
0
0
0.00
&nbsp
Alfredsson, Daniel&nbsp
0
0
0.00
&nbsp
Afinogenov, Maxim&nbsp
0
0
0.00
&nbsp
Arnott, Jason&nbsp
0
0
0.00
&nbsp
Aucoin, Adrian&nbsp
0
0
0.00
&nbsp
Avery, Sean&nbsp
0
0
0.00
&nbsp
Armstrong, Colby&nbsp
0
0
0.00
&nbsp
Anisimov, Artem&nbsp
0
0
0.00
&nbsp
Alberts, Andrew&nbsp
0
0
0.00
&nbsp
Adams, Craig&nbsp
0
0
0.00
Stat Database Last Updated:
Oct. 13, 2021 @ 5:42 AM EDT