Winnipeg Whiteout, yet Jets wear blue?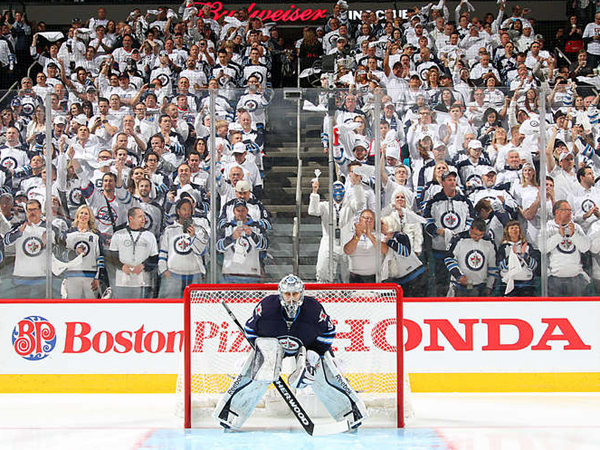 Stoney Point - Apr. 21, 2015 - It was great to see NHL Playoff Hockey return to Winnipeg last night as the Winnipeg Jets played host to the Anaheim Ducks. Congrats to David Thompson, True North and the fans of Winnipeg.

I remember watching Dale Hawerchuk play there in front of the infamous Winnipeg Whiteout - where fans all wear white for playoff games. What struck me as odd last night though is that this time around, thanks to new NHL rules - the home team wears their dark jerseys at home.

15,016 fans all dressed in white. 18 home team players dressed in blue. Not right.

The NHL should allow the home team to choose the colour of jersey they wish to wear - much like the NFL does. This is just one guy's opinion, but it would be great to see the Jets in white along with their fans.


---
---

---
---

3,471 Hockey Stories so far,
and Growing Daily!
#
PLAYER
TM
GP
PTS
PPG
&nbsp
McDavid, Connor&nbsp
50
92
1.84
&nbsp
Draisaitl, Leon&nbsp
48
76
1.58
&nbsp
Kucherov, Nikita&nbsp
48
72
1.50
&nbsp
Pastrnak, David&nbsp
51
72
1.41
&nbsp
Thompson, Tage&nbsp
50
68
1.36
&nbsp
Tkachuk, Matthew&nbsp
49
66
1.35
&nbsp
Karlsson, Erik&nbsp
51
66
1.29
&nbsp
Robertson, Jason&nbsp
51
66
1.29
&nbsp
Hughes, Jack&nbsp
49
64
1.31
&nbsp
Rantanen, Mikko&nbsp
48
61
1.27
Stat Database Last Updated:
Feb. 02, 2023 @ 7:55 AM EST