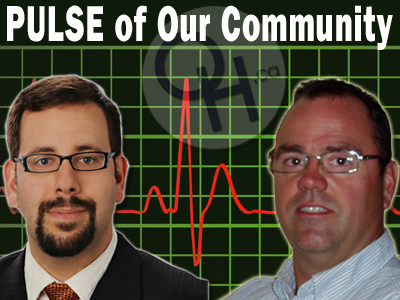 Cornwall - Aug. 11, 2011 - All three questions in this installment of PULSE of Our Community deal with the upcoming provincial election.

1. Of the three candidates, who do you believe has been the most visible in the campaign to date? Why?

SETNYK - First I would like to congratulate Elaine MacDonald, Mark A. MacDonald, and Jim McDonell for running in this upcoming provincial election. Each candidate has municipal experience, and each would work hard as our MPP. Best of luck to all the candidates! Now to answer the questions at hand.

I think the most visible candidate has been Elaine MacDonald. Elaine represented the Mayor of Cornwall at the reception for Governor General David Johnston at the Glengarry Highland Games in Maxville. She was at the Chesterville Fair, she was flying kites with the Parade of Nations in Cornwall, she was at the Annual Pig Roast for CHEO in Long Sault, and she was at the Iroquois Fly-In Breakfast just to name a few. She's been campaigning in the counties, and the NDP hosted a BBQ on August 7th at Lamoureux Park. Elaine's use of social media on Facebook and Twitter has been excellent, so her activities are easy to follow. Her editorials and Brian Lynch's have been getting consistently published and they are very well written. Mark has been very visible too, attending a lot of events, and his face to face tour and campaign camper have got him media press. Jim has been the least visible. Despite being the first to open his campaign office, I have not heard or seen much of him in the early part of this campaign, except for a photo-op with a pool guy attacking the impact of hydro rates on small businesses.

BENNETT - Of the three candidates, who has been more visible? A good question, as my answer would be different today, than it would have been a month ago. Jim McDonell was out of the gate early. He did a great job of trying to steal the thunder from the Liberal candidate, by opening his campaign office with much fanfare on the same day as the Liberals were holding their nomination meeting. If you read any of the local media sites the next day, there was as much said about Jim McDonell as there was about Mark MacDonald winning the Liberal nod. Elaine MacDonald was acclaimed, and with there being no candidate challenging her, it was a very quiet start to her campaign. Now, if I was answering this question today, I would have to say that Mark MacDonald has been the most visible. He has been everywhere, even playing downtown at Buskerville. You can't help but notice his campaign camper popping up everywhere. With the end of summer coming soon, expect all three candidates to ramp up their campaigns.

2. In your travels throughout our area, what are you hearing as the top three issues for the upcoming Provincial election?

SETNYK - The three top issues I have heard discussed concerning the upcoming Provincial Election are HST, Health Care, and Poverty. HST has been a hot topic issue. The NDP say it's a regressive consumption tax that hurts the pocketbooks of families, while the Conservatives say it hurts businesses because it shrinks consumers' pocketbooks. Both want to eliminate HST on heat and hydro, however don't expect either party to eliminate the HST completely. Health Care is always a critical election issue. Wait times have improved under the Liberal government, however there is a huge need for more hospital beds, and there are concerns about quality long term care. Hudak would cut health care the same way Harris did. The NDP would invest more tax dollars to increase beds and reduce wait times even further. The question for voters is this: How much is our health care worth? The final issue is how to eliminate poverty? Good social polices can reduce and eliminate poverty, and create more fair and inclusive societies. More Canadians are using food banks, including the working poor, and that is why we need to put food back in the budget, and raise the minimum wage to $12.

BENNETT - The three issues that I have been hearing early in this campaign have been mostly different from the recent federal campaign. Health care is always in the forefront, and has been discussed, but the talk has been focussed on the hated HST, and the Liberals secret deals. One secret deal with OPSEU, and more recently, another with Korean giant Samsung - a seven billion dollar deal for green energy. One thing the public has no stomach for, is secret deals. You would think the provincial Liberals would have learned a little something from their federal counterparts and the Adscam scandal. The HST would have been an easier sell, if it didn't drive up the cost of home heating bills and a litre of gas, among other necessities. There has been a lot of talk about the last two issues, and the Liberals are doing their best to put a positive spin on them. It won't be an easy sell, but never count out Dalton. Hudak will need to hit the Liberals hard and often on these issues if the Tories hope to unseat the Liberals.

3. Dalton McGuinty has often been referred to as the "Teflon Man" because controversial issues have seemed not to stick to him. Do you think this continues to be true or will he have difficulty answering for the performance of his government?

SETNYK - Some people may refer to Dalton McGuinty as the "Teflon Man", however some issues like HST are sticking. McGuinty definitely has a fight on his hands. The polls indicate that the Ontario Conservatives have the edge thus far. Don't expect an orange crush, however expect the NDP like the Conservatives to pick up more seats. I won't speculate on who will be governing the province on October 7th, however I think either a Liberal or Conservative minority would be a good guess at this point. Do broken promises about no-new taxes, and criticisms about the Green Energy Act resonate with voters? Yes and no. It resonates with some voters. Despite these criticisms, the McGuinty government has had some notable accomplishments. Enrollment at University has increased, there are grants for 120,000 low income students, the unemployment rate is at a five year low, and Ontario has a secure electricity supply plan. These are all significant accomplishments, however will it be enough to keep the Liberals in power? Hudak and Horwath will both make strong cases about why their respective parties should govern Ontario instead. It's going to be a competitive and exciting election campaign in this riding and across the province.

BENNETT - Dalton "Teflon Man" McGuinty has had a remarkable run since he was first elected. He came in promising not to raise taxes, than started to add new taxes at an alarming rate. However, they weren't new taxes, they were user fees. All I know is, whatever he called them, I have a lot less money in my wallet. In my opinion, the biggest reason that controversial issues have not stuck to him, is the lack of a strong opposition leader. The NDP and Tories have struggled to find a Leader that the Ontario voters can connect with. John Tory came close, than shot himself in the foot with his plan to fund faith-based schools. The biggest threat to McGuinty this time around, is Tim Hudak. So far Hudak is making a connection with Ontario voters, saying the right things, and making the right promises. Now if he can just avoid the self destruct button that did in John Tory, we may have a new Premier this fall.