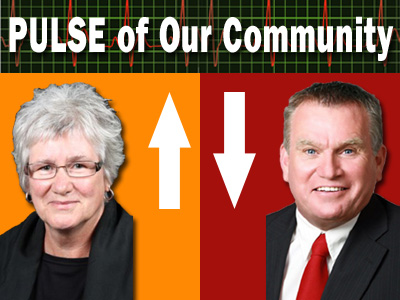 Cornwall - Aug. 19, 2011 - 1) The Liberals and the Conservatives have a very different view of McGuinty's Samsung energy deal. The Liberals claim it will create 16,000 jobs, while Tim Hudak and the Conservatives vow to kill the deal if elected. What is your opinion on the deal and what do you think the majority of Ontarians feel about it?

SETNYK - In principal I support Green Energy, and the only way to make Ontario a greener province is to invest in infrastructure. Wind power has the potential of being a viable, clean, and important source of energy in the 21st Century. The Liberals claim it will create 16,000 jobs. Dalton McGuinty also estimated that HST would create 600,000 new jobs, how is that working? The Samsung deal will definitely create some new manufacturing jobs, distribution jobs, and so forth. The number of estimated indirect jobs being created is probably exaggerated, however this deal will establish Ontario as a leader of Wind Energy in North America. I am concerned about Tim Hudak and the Conservatives vow to kill the deal if elected into power. What would the penalties be for walking away from this agreement? A conservative minded Mayor in Ottawa named Larry O Brien killed a light rail project. The City of Ottawa was sued by Siemens, and eventually the City settled out of court for $37 million (and remember the Samsung deal is much larger than light-rial). Reneging on a deal could cost taxpayers a lot of money with absolutely no return. Hudak must be cautious of this.

BENNETT - It is very clear that there is a big difference between the Liberals and the Conservatives on the secret green energy deal that McGuinty has signed with Korean giant Samsung. The Liberals are telling us that this deal will create 16,000 new jobs, and make Ontario a world leader in clean energy. That sounds great, except the deal is secret, and all we have is McGuinty's word. For two terms now, his word hasn't meant a whole lot. What I have been able to read about this deal, makes me think that Tim Hudak, may do us well if he does follow through on his promise to kill this deal. Hear are some interesting stats that I have found. Samsung will receive from the province 13.5 cents a kilowatt hour for wind energy, and a whopping 44.3 cents for it's solar energy. Consider that energy now costs us 3.31 cents a kilowatt hour - which direction do you think your bill is going to go? The bottom line is this. It will cost all of us a lot more to turn the lights on with this deal than it does right now. Further,a 25 year contract is a very long time, if the average Ontarian can't afford these new rates. I truly beleive that McGuinty thinks he is doing the right thing here. The problem is that he is so out of touch, he doesn't realize that an average family like mine, can't afford our rates to go any higher. I also think that a majority of Ontarians feel the same way.

2) The Ontario Provincial election will mark the third time in less than a year that area residents have gone to the polls. Do you think that Ontarians are disinterested in this election or will their interest pick up after Labour Day?

SETNYK - We just had a Federal election, and a Municipal election before that, but I don't think that will have an impact on the upcoming Provincial election. It's summer time, people are going away on Vacation, enjoying the outdoors and the hot sun. Summer is the most difficult season to campaign because people overwhelmingly are not thinking about politics. I know that is true from my own campaign experience running municipally in 2010, and from my experience volunteering on seven different (Provincial and Federal) election campaigns both here in SDSG and in my Ottawa riding as a University student. I believe voters interest in the upcoming Provincial election will be piqued after Labour Day.

BENNETT - This election will mark the third time in less than a year that we are going to the polls. Nobody wanted the federal election, and it showed with the electorate viciously turning on the Liberals, who forced the election. The Conservatives finally got their majority, and the biggest surprise was the NDP becoming the Official Opposition. This would normally make me believe that this election could end up having a low turnout. However, the McGuinty Liberals may have done enough to anger the average Ontarian to get out and vote. Two terms for any government is tough to do. Three is almost impossible, but when you have broken as many promises and signed as many secret deals as this government has over the last eight years, you are waking a sleeping giant. I think this will be one of those elections that sees a big turn out. Mostly, because there is enough anger towards this Liberal government to make even the most disinterested voter want to get off their couch and voice their displeasure. It would not surprise my at all, if this election mirrors the results of the federal election. The only thing saving the Liberals from getting knocked down to third party status, is not many people feel the same way about Andrea Horwath as they felt about Jack Layton.

3) Federally, the New Democrats saw considerable growth in the last election. Do you think local NDP Candidate Elaine MacDonald can improve on the 2,813 votes (7.3%) that NDP candidate Lori Taylor garnered in the 2007 General Election? If so, which party will be hurt the most by her improvement?

SETNYK - Will local NDP Candidate Elaine MacDonald improve on the 2,813 votes (7.3%) that NDP candidate Lori Taylor garnered in the 2007 General Election? Absolutely! I respect Lori Taylor, I like Lori Taylor, she is a good debater, however she ran a very weak campaign. Elaine MacDonald has successfully won two municipal elections and was a top three vote getter in 2006 and in 2010, getting about 8000 votes and 6000 votes respectfully. Federally Elaine MacDonald scored over 5000 votes in 2004, and nearly 7000 votes in 2006. Admittedly the Provincial NDP are not as popular as the Federal NDP, but Elaine MacDonald has proven to be a strong candidate. Strong showings by Elaine MacDonald and Tom Manley in 2004 hurt Bob Kilger, and helped Guy Lauzon win. Therefore if Elaine MacDonald runs a strong campaign again, it's most likely going to hurt Mark MacDonald. Elaine MacDonald might also be more popular than Mark MacDonald in Cornwall. I know it's comparing (Red) apples to (Orange) oranges but Elaine MacDonald got more votes than Mark MacDonald municipally in 2006 when each was running for one of ten City Councillor jobs. Will Elaine MacDonald get 4000 to 8000 votes? Absolutely! How about the 8000 to 10,000 vote range? Maybe. Over 10,000 vote? Perhaps unlikely, but not impossible. This election could really turn into a three person race.

BENNETT - Can the provincial NDP benefit from the Orange Wave that saw their federal counterparts sweep their way to Official Opposition status? Tough question. A big reason for the federal NDP success was Jack Layton. It doesn't matter what party you pull for, most people like Jack. How many party leaders can you think of over the last ten years, that you recognize by their first name alone. This man earned that election result and the title of "The politician you most want to have a beer with." While I am sure Andrea Horwath is a lovely person, she just hasn't earned that kind of respect yet. Elaine MacDonald on the other hand, is very well known and respected in Cornwall. I don't think she will have any problem riding the surge in NDP popularity to a much better result than Lori Taylor had in 2007. I would think if you generally vote Liberal, but are a little reluctant to vote for a McGuinty candidate, you will be giving Elaine a good hard look. She has earned a good reputation for her work as a City Councillor and this could help her with votes in the city. She may struggle for votes in the counties. If she does manage to gain more votes than Taylor did in 2007, then look for that support to come from soft Liberal supporters.