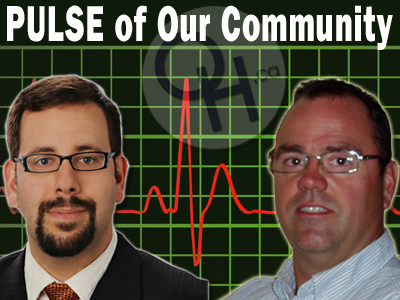 Cornwall - Oct. 1, 2011 - 1. The candidates are debating each other seven times in this short campaign. Do you think that is too many debates, or the more the better?

SETNYK - I take no issue with the local candidates debating each other seven times. It may seem excessive, however we live in a large and diverse riding. I like that there are different rural debates throughout SDSG, plus a Labour Council run debate and a Chamber of Commerce debate here in Cornwall. It gives voters numerous opportunities to hear the candidates speak, to ask questions, and to make a more informed decision. Debate is healthy in a democracy, and I think this is all very positive!

BENNETT - I have heard from a lot of people say that they haven't seen a lot of the candidates during this campaign. One reason that I see, is the number of debates that have been going on. Seven debates can take up a lot of a candidates time. I am sure the Jason Setnyk would agree with me, that a lot of preparation goes into every debate. If the Agape holds a debate, then you need to be prepared to answer questions on poverty. If the Cornwall Labour Council holds a debate, then you need to be able to answer questions about labour related issues. Every different group that sponsors a debate, will have it's own agenda, and they will expect you to be able to express your views on the issues close to the groups heart. If you have to prepare for seven debates, and assuming you take at least two days to prepare for each one, then you have just lost 14 days of valuable campaign time. It's very difficult to go door to door in a big riding to introduce yourself to the residents who will be voting, if you are constantly preparing for debates. Most of these candidates have day jobs as well as running to be your MPP. That doesn't leave a lot of time to be going door to door. If I had any say at all, which I don't, I would limit the amount of debates to four. That gives an opportunity for Labour, Business, Rural, and Social issues to get a chance to hear from their candidates. Hold each of them in different parts of the riding to give everyone the chance to attend a debate. The best part of this plan, is that there will be as many people who agree with me, as people who won't. Ah, democracy.

2. The writ has been dropped and the campaign is almost over. What is your prediction for election night - order of finish and vote margin. Also, who is the Premier on Oct 7th? Majority or Minority?

SETNYK - I am predicting a Liberal Minority Government. This will be new territory for Dalton McGuinty as he will have to co-operate with the opposition parties to pass legislation. I am predicting the following seat count as well: Liberals - 45 seats, Conservatives - 40 seats, NDP - 22 seats, Green - 0. Locally, I am predicting that Jim McDonell will win by a minimum of 2000 votes, but probably a lot more: Jim McDonell - 13,000-16,000 votes, Elaine MacDonald - 8,000-11,000 votes, Mark MacDonald - 7,000-10,000 votes, Justin Reist - 100-500 votes, Darcy Neal Donnelly - 1-99 votes. Jim McDonell will win a clear majority of the rural vote, while Elaine, Mark, and Jim will probably split the Cornwall vote. I think second place is going to be too close to call. Mark MacDonald had the edge, but with Elaine's performance at the Chamber of Commerce debate, along with the Cornwall Firefighters and Ottawa Citizen's support of Elaine, she could be poised to take second place. This could be the best provincial showing for the local NDP since the days of George Samis. Despite this being a provincial Liberal strong-hold for so many years, the current Liberal candidate is not as popular as Jim Brownell or John Cleary. I do not believe that he will energize the red vote in the same way that his predecessors did. I'm also predicting that Justin Reist will finish ahead of Darcy Neal Donnelly despite not having been in the riding. I am also predicting a lower voter turn-out in this riding compared to the last provincial election. How will my predictions hold-up? Only time will tell. I would like to wish all the candidates the best this October 6th! Here is my final message about this election. Democracy is like a muscle, you must exercise it to keep it strong. So participate, volunteer, and vote!

BENNETT - Time for the big bold predictions. Is there anything that can make you look like a genius, or a fool faster than sharing a prediction. I thought about giving a long explanation, and cover many angles, to give myself an out if I screw this up. But I figured I would have fun bragging to everyone if I nail this, and just as much fun being mocked for getting it wrong. So, here it goes. Provincially, I see a Conservative minority, with very few seats separating the Liberals and NDP. But the Liberals will be the official opposition. Locally, this is tougher. I have followed the local campaigns, and see positives and negatives with the big three. The Libertarian didn't have a chance before his comments got him in trouble at the Cornwall Chamber debate, and now he will struggle to keep the supporters he had going in to this election. That was a bad time for a slip of the tongue. I think that Jim McDonell wins, with a narrow victory. This was really his election to lose. Now, what I am about to say, surprises even me. Elaine MacDonald finishes second, followed by Mark MacDonald. Now remember. If I get this right, I will be impossible to be around for a week. And, if I'm wrong, it will be impossible to find me for a week. Now get out and VOTE!