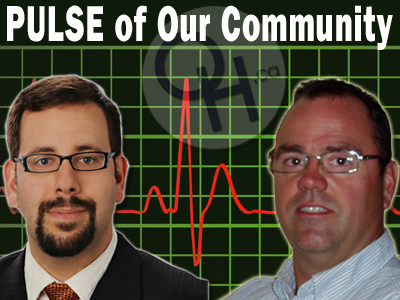 Cornwall - Oct. 25, 2011 - What are your thoughts on the recent Cornwall Chamber of Commerce BizFest?

SETNYK -October is Small Business Month in Ontario, and Cornwall Bizfest was a celebration of just that - creativity, innovation, and entrepreneurship. I know many entrepreneurs and business owners, and I appreciate their hard work, tenacity, dedication, and their contributions to our community. Small businesses are job creators, and they are the heart of our community. They are the engine that drives economic development forward. Bizfest was a chance to celebrate our accomplishments and progress, and it also ignites a strong sense of civic pride. We should be proud of our small businesses, and they deserve the spotlight. Bizfest was an opportunity to network with other business owners and an opportunity to promote local businesses. I congratulate the Cornwall Chamber of Commerce and the other community partners for organizing this. It was a week long series of events that aimed the spotlight on our economic creativity. Bizfest was a very positive event, and I hope there are more celebrations like this in the future. Kudos to everyone who participated this past week and helped put together a very successful and high profile festival.

BENNETT - Bizfest. What a great event for our Chamber of Commerce to get behind. Joey Gault and his team of volunteers brainstormed this idea, to bring local entrepreneurs and business experts together, and inspire us to become the best that we can be. Guest speakers like Gerry Visca come in for a few days to discuss personal branding, creative thinking, and becoming innovators. His boot camps were intended to inspire our hometown business people. Michele Allinotte talked about the use of social media, and developing strategies to help you get your message out. There were clinics on the importance of Health and Wellness in the work place. Companies that focus on this have happy and productive employees, and that is a positive for everyone involved. There were other speakers as well, and they covered many topics, designed to make our business people succeed. Recently, Cornwall finished 98th in the Canadian Federation of Independent Business survey of Canada's most entrepreneurial cities. When you consider how much has been going on in this city in the last four or five years, that is a shocking result. However, with events like Bizfest doing what it did a couple of weeks ago, this city should soon rise to, or near the top of that list. The attending entrepreneurs just have to put all that they learned into practise. It will take time, but it will pay off. Small business is the backbone of the economy, and with events like Bizfest becoming an annual event, Cornwall may well be on it's way to having one of the strongest economies in the province. Maybe even the country. Now I look forward to seeing Joey Gault and his team of volunteers, with the Chamber of Commerce grow this event, and bring forward new ideas. Those are better left to the exports to discuss. Good Luck to all those who participated in this, and future Bizfest events.

Does Cornwall need a homeless shelter?

SETNYK - Tim Archer was recently camping in front of City Hall for a week gathering signatures in hopes of getting a homeless shelter in Cornwall Ontario. Reggie Walker (aka Gary Samler) has also brought the issue of homelessness to the news by choosing to experience it first hand to better understand it. In this past provincial election Poverty Free Ontario ran a reverse campaign to help elect candidates sensitive to poverty. While the Social Development Council of Cornwall and the Agape continuously address issues of poverty in our community. However, does Cornwall really need a homeless shelter? I think it is an issue that should be studied and given serious attention. Homelessness in smaller communities is not always visible like it is in larger cities like Toronto and Ottawa, and there are different forms of homelessness. For example someone who is couch surfing or someone who does not have a secure and safe home falls under the umbrella of homelessness. Most homeless people do not choose to be homeless, and not everyone who is homeless is a substance abuser. In fact many homeless people in Canada either lost their job, cannot find affordable housing, or have mental health issues. Social development is just as important as economic development, and if there is indeed a homelessness issue in Cornwall, it should be addressed. Any study should gather information from different stakeholders, from tax payers, to local charity and non profit groups, social workers, hospitals, police, and of course homeless people. If there is a need for a homeless shelter, and I strongly suspect there is, it should be run by a non profit group and subsidized by the City. A homeless shelter, although important, is a band-aid solution. More affordable housing will reduce homelessness and a guaranteed living wage will reduce the amount of working poor. However the goal should be to eliminate poverty, not to simply reduce it.

BENNETT - Recently, Tim Archer camped out in front of city hall for a week to collect signatures on a petition, and raise awareness of the need of a homeless shelter in Cornwall. To be honest, until he did this, I did not realize there was a need. I just assumed this was a big city problem. According to Archer, in certain situations, someone can get put up at a hotel for a night or two, but that doesn't really address the problem. I am not going to pretend I have a solution, but at least Mr. Archer has put a spotlight on this issue, and conversations can begin to address it. I guess the best we can all do now, is not let this get swept back under the rug. I would like to see organizations like the Agape Center, Salvation Army, local churches, and the city get together and address this situation. If all of the organizations in this city, pool their resources, there should be a workable solution for everyone involved. Most of these organizations are in the business of helping people who need a helping hand, and should best positioned to offer some solutions. If a healthy Tim Archer had to end his protest early, because the physical toll was becoming to much in early fall, imagine what will happen to someone who has to do this in the middle of winter. Let's not wait until someone dies, to find a solution this problem. This just isn't a problem of the poor, it is all our problem. You may live in a beautiful home now, and drive a nice car, but, with a little bad luck, we all have the potential to be in this situation. And wouldn't it be nice, that if this did happen to you, that there was someone out there to help you through it.