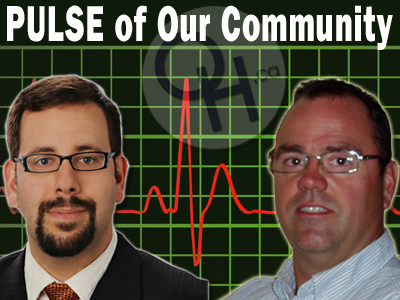 Cornwall - Mar. 10, 2012 - 1. Your thoughts on Winterfest?

SETNYK - I am a proud member of Team Winterfest serving as Vice-Chair of Cornwall's second largest festival. I was privileged to work with an excellent team including Chair Jason Mitchell, Past Chair Rodney Rivette, City Councillor Syd Gardiner, Secretary Lucie Hart, Treasurer Jessica Adams, Volunteer Coordinator Kimly Thivierge, and many others. A festival of this size took over a thousand combined hours of volunteering to organize over twelve months. Winterfest 2012 was a huge success, and a true measure of that success was seeing the thousands and thousands of people and families who enjoyed the festivities this past weekend. The smiles on children's face and seeing people having fun, that is so rewarding! From the opening ceremonies at the Civic Complex and someone winning a trip to Disney, to two nights of awesome fireworks, to the kid zone, skating, music, entertainment, and countless other activities, this has been the best Winterfest yet! I am thankful to all our sponsors including Storm Realty and the Children's Aid Society of SDG. The media has simply been terrific promoting this event too. Cogeco did a great job filming the open ceremonies, and Mix 96.1 did a great job registering people for the Disney Trip. Print media such as the Seaway News, Standard Freeholder, and Local Seeker helped a lot too, as did online media from Ourhometown, to Choose Cornwall, and the City's website. It is humbling to see the community come together this way, from volunteers, to entertainers, to sponsors, and media. It was a team effort, and it benefited our whole community. Festivals like Winterfest are good for quality of life for local residents, and it's also good for economical development and tourism. It was an honour to be a part of Team Winterfest!

BENNETT - Cornwall Winterfest is quickly becoming an event that you don't want to miss, very much like Lift Off in the summer. How wonderful is it to have two signature events in our city. I can't say enough about the organizers of this event, who, in a few short years, have made this event as big as it is. That takes a lot of work and dedication. I was able to attend Winterfest this year on all three days. Great entertainment at the opening ceremonies, and I loved the mix of music and figure skating and the thrill of the $25,000 hockey shot, and the giveaway of the Disney vacation. The biggest surprise for me was Councillor Gardiner singing Mustang Sally with the Winterfest Allstar Band. Who knew there was a rock star in our Councillor. Sunday was a lot of fun in the park, with some good entertainment leading up to the amazing fireworks display. If you haven't seen EWA perform before, do yourself a favour, and see them. My daughter and I really enjoyed their performance. There was literally something for everyone. It didn't matter if you were 2 years old or 80, there was something for you. If you don't like being outside in the cold, there was plenty for you to do inside. I thought the organizers did an amazing job striking a balance to keep all members of your family entertained. That could not have been easy to do, and they pulled it off beautifully. I am not sure what this committee can do to top this years Winterfest, but I am truly looking forward to finding out. Family Day Weekend is already circled on my 2013 calendar.

2. Your thoughts on the Robogate Scandal?

SETNYK - What does Prime Minister Harper know, and when did he know it? The Robogate scandal is becoming a national embarrassment and a disgrace to our democracy. I hope the RCMP conducts an in-depth investigation into these serious allegations. Does Elections Canada have the resources to enforce electoral laws? The answer is probably no, and that is why the RCMP needs to conduct the investigation. Canadians deserve answers. It should not be like in those third-world countries, where the UN has to come-in and ensure fair elections. When honest hardworking Canadian citizens get phoney calls from a company - linked to the Prime Minister - lying and making false claims like their voting station has changed locations is detrimental and harmful to our democracy, and it raises some serious and legitimate questions. Racknine Inc. has been linked to the robocalls, and this company has worked for the Tories and for Harper himself. This scandal has the potential to create disillusionment and turn-off voters. Misdirecting voters, and making it difficult for them to vote is illegal. We as Canadians have a fundamental right to cast a ballot in a free and fair election, and that right should not be obstructed in anyway. At least 34 riding's across Canada have become disenfranchised. The Prime Minister says he is innocent, and he has publicly protested his innocence. The only way to find out if Harper and the Conservatives are innocent or guilty is by conducting a proper investigation. Tens of thousands of Canadians have been demanding answers, and that number is growing each day!

BENNETT - The issue of the Robo calls during the last federal election is a disturbing one. This is not something that just happened off the cuff. This is something that had to be planned out carefully. Phone calls to people's homes directing them to non existent polling stations took some serious planning to pull off. I don't think anyone can say for sure how effective these calls were, but that hardly matters. What does matter, is that these calls were made. I have read a few stories in recent days, and one thing that disturbs me, is the assumption that this had to come from high up in the Conservative party. That this happened at all is shocking enough, but to just point the finger at the leadership of the Conservative party is a little premature, and irresponsible. There is an investigation ongoing, and I am sure the people responsible will be found, and brought to justice. And if there is any involvement by the Conservative leadership, I hope they pay a high price. But to just assume it came from Harper's leadership team because they are conservatives, and, "that is something they would do", is a little disturbing. It is one thing for people to dislike this government, but quite another to accuse them of breaking any election rules. There is no proof or evidence at this point, of any wrong doing by the Conservative party leadership. And until such evidence comes to light, remember, innocent until proven guilty. Not guilty because they're Conservative. That any party could be responsible for something like this, would be disappointing, which ever political stripe you may be. And if it is proven that this came from high up the leadership ladder, then I hope they pay dearly for it. I would say the same thing for any party that would involve themselves in something like this.