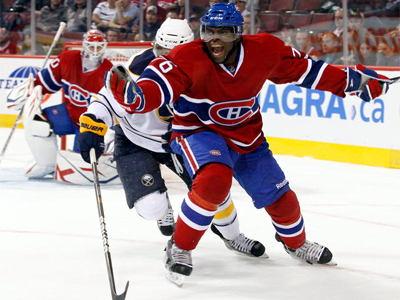 Whitby - Sep. 22, 2011 - For the second straight night, the Canadiens came up short on the score sheet. Facing a veteran laden Buffalo led team, the young and inexperienced Canadiens' lineup put up a valiant effort, but at the end of 60 minutes were overmatched by the visiting team. Sabres' defenseman Christian Ehrhoff tallied a goal and an assist to lead his squad to a 3-1 win over the Canadiens in pre-season play on Wednesday night. Sabres' goaltender Ryan Miller stopped all 11 shots he faced while backup netminder Jhonas Enroth allowed a lone goal on 13 shots. Montreal's tandem of Robert Mayer and Peter Budaj shared in the loss.

Canadiens' veteran defenseman P.K. Subban provided the lone tally for Montreal with a power play marker on a nice feed by defence partner Nathan Beaulieu in the second period. For a complete game summary and notable player statistics, follow the link to NHL.com below.

The Canadiens' faithful have plenty to be excited about if tonight's game was any indication. Les Habitants' future looks extremely positive with a number of young dynamic skaters in the fold such as Beaulieu and Brendan Gallagher to name but a few. Good news for the Montreal faithful, bad news for Coach Jacques Martin, as he will have some tough decisions to make when it comes time to trim the roster.

The three stars of the game, as selected by RDS, were Montreal defenseman Nathan Beaulieu (3rd star), Montreal forward David Desharnais (2nd star) and Sabres defenseman, Christian Ehrhoff (1st star).

Montreal's next pre-season game is this Friday night when they travel across the 401 to face the Ottawa Senators. The Senators scored an exciting 2-1 overtime win over the 2010-11 Stanley Cup Champions, the Boston Bruins last night.


Post-Game Notes
Some Rookies Hot, Some Not
I will never know how much pressure is involved with vying for a limited roster spot with the Montreal Canadiens organization - I can only assume and you know what they say about 'assume'ing…

Listening to last night's game via the TEAM 990 AM radio, I was surprised at how remissive centreman Andreas Engqvist on-ice performance was throughout the game. Yes, he did win six of ten face-offs; however, he was nearly invisible throughout the rest of the game. Another hopeful soon-to-be-Habitant, Aaron Palushaj has yet to prove to the coaching staff that he deserves serious consideration for a roster spot. Palushaj and Engqvist just have not delivered. At this pace, these two skilled skaters are destined for Hamilton for the 2011-12 AHL season. Reviewing last night's game, I am tickled pink by what rookies Nathan Beaulieu, David Desharnais, Brendan Gallagher and of course, Max Pacioretty, will bring to the parent club in the years to come. Desharnais consistently went hard to the net. He is a playmaker and likes to pass the puck. He had a solid night and if Desharnais can bring this type of performance to each game, well, let's just say, the Montreal faithful will soon be saying 'Scott who?'.

Habs rookie, Vancouver Giant's forward, Brendan Gallagher is another great young player who has some crazy skills and displayed them last night. However, the most dominant rookie for the bleu-blanc-rouge last night was defenseman Nathan Beaulieu. Beaulieu showed some jitters at the start of the game, but quickly settled in and possesses an excellent hard shot. Beaulieu made a great heads up play to P.K. Subban who scored Montreal's lone goal.

Max Pacioretty made his long awaited return since suffering a broken vertebra last season against Zdeno Chara of the Boston Bruins. The fans at the Bell Centre applauded Pacioretty when he stepped onto the ice for his first shift of the game. Pacioretty did not disappoint either as he looked great playing on a line with Desharnais and Brian Gionta. Pacioretty was willing to go hard to the net, as well as going into the corners to pick up the garbage.


Game Stats Review
Habs' veteran defenseman P.K. Subban picked up where he left off last season. Subban was all over the place in Wednesday's game and scored the Canadiens only goal. He also had four shots on net.
Netminder Peter Budaj played a controlled and consistent game. He was consistently square to the shooter and his lateral movements were also consistent and practically textbook-like. He played the first 29:57 minutes of the game and registered a .933 save percentage.
Defenseman Jaroslav Spacek has lost some weight in the offseason and it was obvious; he has better conditioning this season than last.
Rookie netminder Robert Mayer under-performed last night. He will be hard pressed to even make the Hamilton roster if he continues delivering similar type performances. He played 28:57 minutes and finished the night with a paltry .889 save percentage.
Max Pacioretty fired six shots on the Buffalo goal and also delivered three hits.
Rookie defenseman Nathan Beaulieu led Montreal in ice-time, playing 27:15 minutes. He registered one assist, two shots on net, blocked one shot and also delivered two hits.
The Canadiens won 21 of 49 face-offs and was only one-of-six on the power play.

Until next time, play every game as if it is your last one…