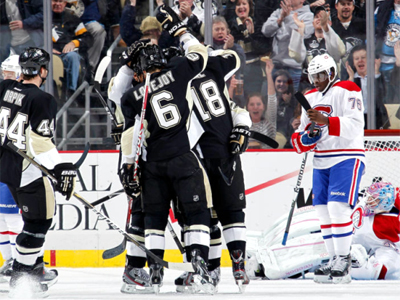 Whitby - Oct. 21, 2011 - Sad, pathetic, embarrassing and passion-less are adjectives that are being tossed around as of late to describe the performance of the Montreal Canadiens.

On Thursday night, the Canadiens seemed to give up after the Pittsburgh Penguins' James Neal scored the game's first goal at 8:55 of the first period. The Penguins routed the Canadiens' 3-1 as Marc-Andre Fleury made 27 saves and was solid in net for Pittsburgh. Joe Vitale and Arron Asham potted the Penguins' other two goals. Habs' dimunitive winger Brian Gionta had the lone Canadiens' marker at 18:24 of the final period.

The Penguins were without their top three marquee players in Sidney Crosby, Kris Letang and Evgeni Malkin. On paper, the Canadiens had a comparative squad and had their best chance to defeat the Penguins on this night. How bad is Montreal's situation after the sixth game of the 2011-12 NHL regular season? They now sit one point behind the lowly Ottawa Senators and are tied in points (three) with the Winnipeg Jets. Montreal's record is a horrid 1-3-1.

Scott Gomez left with an undisclosed injury near the end of the first period and did not return. Carey Price stopped 29-of-32 shots (.906 save percentage) directed his way by the Penguins and took the loss for the Canadiens. On a positive note for Les Bleu-Blanc-Rouge was the return of Michael Cammalleri from a leg laceration. He saw 19:32 minutes of ice time.

The announced three stars of the game were Pittsburgh's Arron Asham (3rd star, one assist), defenseman Deryk Engelland (2nd star, six hits and two assists) and Fleury (1st star, .964 save percentage). There were 18,403 fans in attendance at the CONSOL Energy Center.

For complete statistics and individual performances, please see the stats review below and click the NHL.com link for complete details.


VIEW FROM THE WHITBY CHEAP SEATS
There was no 'heart' on display this evening. I guess nobody from the Habs' roster ever read my last opinion piece on the Canadiens lacking 'heart'. To me, it doesn't seem like the Canadiens' coaching staff is getting through to any of their players. Even P.K. Subban is not playing like his usual self, with the end-to-end rushing attempts with the puck. Subban is now seen firing the biscuit whenever it ends up on his stick--his raw talent is not showing through so far this season.

After Pittsburgh scored the first goal of the game, Montreal seemed to shut down and give up. There was no energy, no desperation and definitely not any leadership displayed by any one of the Canadiens' players. Coach Jacques Martin continues to stand emotionless behind the Canadiens' bench--this really is a sad state of affairs for the Habs' faithful to sit by and watch game-after-game.

Being loyal to my team and wanting the Canadiens to succeed, I was hoping that Canadiens' management would at least wait until the tenth game to make any roster moves or coaching changes. However, should Montreal come out flat against the surging Toronto Maple Leafs on Saturday night at the Bell Centre and end up losing to the blue shirts, this sinking ship needs to be evacuated--a free agent signing, a trade or two, or bye-bye to Coach Martin needs to happen by Monday, October 24, 2011.

Nowadays there is way too much parity in the NHL. If the Canadiens fall behind too far, it is virtually impossible for the team to move back into playoff contention. At the time of this recap, the Canadiens are sitting at 27th place overall in the NHL and tied with Winninpeg in the basement of the Eastern Conference.


GAME STATS REVIEW
Montreal veteran defenseman Hal Gill played his 1,000 game
Carey Price failed to record his 100th win.
Montreal was outshot 16-8 in the opening frame and 32-28 overall by Pittsburgh.
Montreal's power play went zero-for-five.
Montreal was out-hit by Pittsburgh 26-15 with Penguins' defenseman Deryk Engelland laying six hits to Canadiens' Mathieu Darche's four.
Montreal's winning faceoff woes continue to worsen: David Desharnais was 6-for-17 (.353), Lars Eller was 2-for-8 (.250), Andreas Engqvist was 3-for-10 (.300), Tomas Plekanec was 10-for-22 (.455)
Erik Cole has yet to score his first goal as a Canadien. It's time to get the proverbial "monkey" off his back.
Scratches for Montreal were Jaroslav Spacek and Aaron Palushaj.

Until next time, play every game like as if it is your last one...