| | |
| --- | --- |
| | |
Montreal downs Ottawa for fourth win in as many games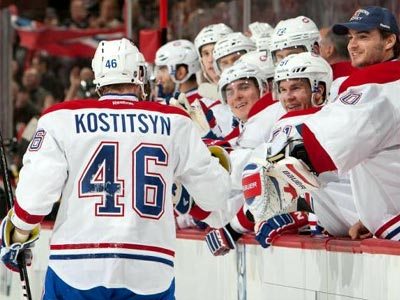 Whitby - Nov. 5, 2011 - The Montreal Canadiens played the perfect road game on Friday night. Coming off a six-day break, Les Bleu-Blanc-Rouge were the better team on this night and did just enough to eek out a win over the Ottawa Senators. The Canadiens were strong on the forecheck, forced a number of Senators' turnovers and scored timely goals in the second period by Erik Cole and Andrei Kostitsyn to give Montreal a 2-1 victory over Ottawa.

Ottawa's Zack Smith brought the Senators to within one goal of tying the game in the third period but that is as close as Ottawa would come. Carey Price was stellar once again in nets for Montreal as he made 33-of-34 saves (.971 save percentage) for the win and was named the game's first star. Craig Anderson made 24-of-26 saves (.923 save percentage) for Ottawa in the loss to their division rivals.

Senators' young stud defenseman Erik Karlsson coughed up a terrible giveaway that led to Kostitsyn's game winning goal in the second period. The game had its entertaining moments from a fan's perspective. Montreal defenseman Josh Gorges took a careless holding penalty at 18:29 of the final frame to make things interesting, however Ottawa failed to get any scoring chances as Montreal's penalty kill unit was able to clog up Ottawa's shooting lanes over the final 1:31 minutes.

The announced three stars of the game were Montreal's Erik Cole (3rd star, one goal), Ottawa's Zack Smith (2nd star, one goal) and Carey Price (1st star, .971 save percentage). Kanata's Scotiabank Place was sold out to 20,329 spectators.

With Friday night's win, Montreal (5-5-2) now sits two points out of second place in the NorthEast division behind both the Buffalo Sabres (7-5-0) and Ottawa Senators (7-7-0). Montreal now travels to Manhattan to face Sean Avery and the New York Rangers on Saturday night.

For a complete statistical review of the game and individual Canadiens' player performances, please see the NHL.com link below.


Game Stats Review
The line combination of Erik Cole, David Desharnais and Michael Cammalleri had great chemistry in the game.
Erik Cole and Andrei Kostitsyn are making the most of the ice time they are getting. Cole established net presence in front of Ottawa's Craig Anderson throughout the game.
Erik Cole is starting to play like the player the Canadiens had hoped for when they signed him earlier this off-season.
Lars Eller was brilliant at both of ends of the rink on Friday night. Eller's confidence is evolving.
Canadiens' captain Brian Gionta had nearly 20 minutes of ice time but only had one shot on goal. Gionta doesn't seem to be playing like the player Habs' fans are used to seeing over the past couple of seasons.
Giveaways were the name of the game on Friday night. Ottawa coughed up the biscuit an uncharacteristic 14 times to Montreal's 5.
Montreal was brutal in the faceoff circle winning only 20-of-55 attempts: David Desharnais went two-for-eight (.250 winning faceoff percentage)
Lars Eller went 6-for-15 (.400)
Petteri Nokelainen went two-for-seven (.286)
Tomas Plekanec went 10-for-24 (.417)

Montreal was outshot 26-34.
Neither team was successful on the power play: Montreal was zero-for-two; Ottawa was zero-for-four.
Montreal had 19 blocked shots to only 9 for Ottawa.
P.K. Subban led the Canadiens with 21:27 minutes of ice time. He was a minus-1, had one shot on goal and had four minutes in penalties.
Alexei Emelin was a healthy scratch once again for the Canadiens.

Until next time, play every game as if it is your last.
8,399 Stories & Growing Daily...
To date OurHometown.ca has posted a total of 8,399 stories! News, sports, hockey, lifestyle, opinion and more!

Be sure to check out our Contributors and Columnists archives!
Click on Photo or Story Title for more info
OurHometown.ca News Database Last Updated:
Dec. 31, 2021 @ 8:03 AM EST