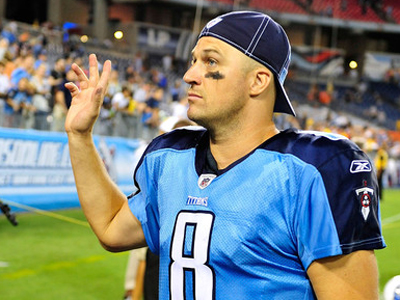 Antigonish - Oct. 22, 2011 - Surprise surprise! Pigskin picks went 4 for 5 yet again in Week 6, narrowly missing on the Upset of the Week with a last minute Tom Brady led drive away from perfection! Could Week 7 be the week where Pigskin picks hits the 100% mark (or something other than 80%?) for the first time this season? Here goes:

LOCK of the Week - Cowboys at Rams -Still stinging after the last minute loss in New England, Dez Bryant goes so far as to call the Cowboys "unbeatable", and while he may need to take a closer look at the actual meaning of that word, the Cowboys are a very talented team on both sides of the ball. The Rams, unfortunately, are not, and have their franchise player, QB Sam Bradford listed as questionable with an ankle sprain. This one just seems too easy. Cowboys win!

UPSET of the Week - Texans at Titans -The Titans have yet to run the ball the way they are capable of doing, which is not really a surprise given Chris Johnson's holdout. He should be rounding into form about now though, and with the Texans missing some key players in WR Andre Johnson and LB Mario Williams, that should make the difference in this game. The Titans upset the favored Texans! Tennessee wins

Steelers at Cardinals - WR Larry Fitzgerald is a great WR. When you are the only dangerous target on your team, however, you can be double covered all game long, and while that strategy cannot stop Fitzgerald for the whole game, it has been enough to prevent the Cards from mounting a consistent arial attack. Facing the Steelers, who feast on the run and can get to the QB, things do not look good for Larry and company, while the Cards soft defence has Big Ben Roethlisberger and his balanced receiving corps, led by speedster Mike Wallace licking their chops. Oh yeah - this just in - the Cards will not be able to stop the powerful RB Mendenhall either. Pitt wins!

Raiders at Chiefs -Lost in all the drama of owner Al Davis's passing and the huge trade which landed QB Carson Palmer is the fact that lowly Kyle Boller, himself once a high draft pick, will likely be starting. While that certainly will not scare the Chiefs, the Raiders running game, led by Darren McFadden, should. Look for the Raiders to put the ball in McFadden's hands early and often. Raiders win.

Ravens at Jaguars - The Ravens have arguably the best defence in the league, and they get a prime matchup against a rookie QB with precious few targets of note in this game. You can't blame QB Blaine Gabbert if he loses sleep over this one, as Ed Reed, Ray Lewis, Haloi Ngata and company will be in his face all day long. Ravens win in a walk!