| | |
| --- | --- |
| | |
Anderson, Butler seal the deal for Ottawa Senators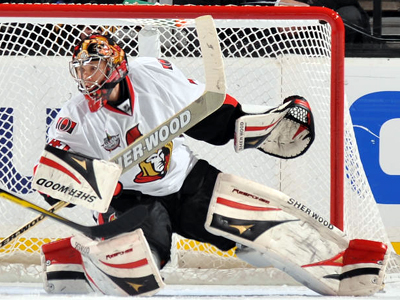 Ottawa - Nov. 16, 2011 - Two late third period goals by Bobby Butler and some solid goaltending by Craig Anderson led the way as the Ottawa Senators won their second straight road game with a 3-1 victory over the Calgary Flames. The game was a pretty even affair between the Sens and Flames, with both teams having numerous chances to score. Unlike most games, this game had a good flow to it and both goaltenders were strong. The game only broke open on a neat toe drag and shot by Bobby Butler to put the Sens in the lead for good.

Penalty Killing
The Senators penalty killing has improved considerably from their early season play when they were dead last in the league with a success rating of somewhere around 66-67%. Tonight the Senators killed off 6 penalties and going back to the Buffalo game when they gave up a shorthanded goal in the second period; the Senators have now killed off 12 straight penalties on the road.

Since the return of Jesse Winchester from an injury and the inclusion of Kaspars Daugavins to the lineup the Senators have killed off 34 of their last 38 (89.5%) short-handed situations. Winchester and Daugavins have been strong up front on the puck and the play of Zack Smith has been a big boost. Of course, you biggest penalty killer has to be your goaltender and Anderson has come through of late.

The Senators now sit 21st in the NHL having killed off 68 of 85 (80%) shorthanded situations. Their even better on the road where they've killed off 41 of 48 penalties (85.4%). The success of their penalty killing on the road is one of the main reasons why they've won the last two games

Bobby Butler
Bobby Butler scored his first two goals of the season to lead the Senators to victory. Butler, who has played in just 10 of the Senators 19 games, missing 4-5 games due to an injury and the rest being sat out because he was in the coaches dog house. Butler now has 2 goals and 2 assists on the season and its been suggested that Coach Paul MacLean has told Butler that he wants him to shoot more.

Butler, was much sought after by at least a dozen NHL clubs. The product of Marlborough Massachusetts, Butler has been a top six player, wherever he's played. In 48 games with the Senators over the last couple of years he has 12 goals and 13 assists for 25 points. Butler possesses great speed and good puck handling skills, but despite those skills he's only taken 89 shots in those 48 games, which is less than 2 shots a game. If the coaching staff can convince Butler to be more greedy and can get him to shoot more than this could be the starting point for a good career.

Strong goaltending
Craig Anderson has now play well in two consecutive games, bouncing back from a terrible opening in Buffalo on Friday night. Anderson, who stopped 39 of 40, had an outstanding game. He seemed to be square to the shooters all night long and not once was out of position. His rebound control was excellent and on numerous occasions gave up no rebounds.

The Senators have been waiting for Anderson to come around. In fact they've been waiting for 17 games for the type of performance that he had in Toronto and again tonight in Calgary. He was the major factor in the Senators win tonight and except for a late 2nd period gaff, which was his fault, he would've had the shutout tonight. This is the type of goaltending a young team needs if they are going to have any success.

Streaky
Here we go again. After a 6 game winning streak and then a 5 game losing streak, the Senators are now on a 2 game winning streak. Who knows how far this one will go with tough games in Edmonton and Vancouver coming up. As with any team who's has a lot of younger players, confidence is a funny thing. A win can often carry over into 2,3,4 games and a loss can have the opposite effect. This year is going to be a rollercoaster ride for Sens fans so get used to it.

Parting shots

Was it my imagination or was the crowd in Calgary very quiet?
The ice in the Saddledome seemed quite chippy and the puck was bouncing all over the place.
When is Erik Condra going to learn to shoot the puck? He had a 2 on 1 late in the second period and instead of shooting he made a difficult pass to Kaspars Daugavins. The puck went wide and went all the way down the ice where Anderson gave it up and the Flames tied the game. If Condra had of shot we could've been looking at a 2-0 lead if not the original 1-0 at the end of the first. Condra has got to start shooting the puck like Butler did.
Why was Erik Karlsson the 3rd star? He coughed the puck over numerous times at the oppositions blue line and even got caught up ice a few times, not to mention a couple of bad giveaways in his own zone. A better defensive choice on this night would've been Chris Phillips or Filip Kuba who has been more solid of late.
Despite a bad turnover at the oppositions blue line, Jason Spezza had another great game. Spezza who dominated in the face off circle, was unfortunate not to score.
8,401 Stories & Growing Daily...
To date OurHometown.ca has posted a total of 8,401 stories! News, sports, hockey, lifestyle, opinion and more!

Be sure to check out our Contributors and Columnists archives!
Click on Photo or Story Title for more info
OurHometown.ca News Database Last Updated:
Dec. 31, 2021 @ 8:03 AM EST