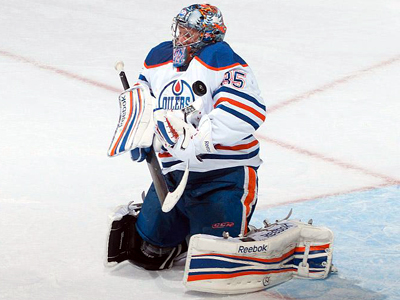 Edmonton - Oct. 27, 2011 - It is early in the 2011-2012 season but you would be hard pressed to find a player that has surprised more people around the NHL, then Edmonton Oilers goaltender Nikolai Khabibulin. While the first two seasons in Edmonton have been some of the most disappointing in the Russian netminders career, the current campaign seems to be at the other end of the spectrum.

The 38 year old veteran has started five of the Oilers eight games and sports a record of 3-0-2 with a sparkling 0.97 GAA and a .963 SV%. Those numbers rank him second behind L.A. Kings netminder Jonathan Quick, who is currently on a 188 minute shutout streak. While the Oilers defensive play has definitely helped him with being able to find his game, the majority of the credit lands directly on the shoulders of Mr. Khabibulin.

Through five starts, the netminder has let in all of one bad goal, which was a fluke goal from Dany Heatley last Thursday against the Minnesota Wild. Edmonton has a very young club and are prone to making mistakes and that is where an elite goalie can make a huge difference. He has made big saves time after time and in my mind, that is what elite goaltenders do. Make no mistake, the former 9th round selection of the Winnipeg Jets has been nothing short of fantastic.

This coming from a guy that nearly all Edmonton fans wanted run out of town before the season started and were ready to anoint Devan Dubnyk as the clubs number one goalie. Funny how things can change so drastically and in such a short period of time. Even the biggest supporter of Dubnyk can't have an issue with Khabibulin being given the ball of late.

I said to anyone willing to listen, that he would have a bounce back season because I fully expected to see a refocused player with something to prove. While Khabby seems to be a fairly soft spoken man, I felt he had too much pride to just allow his career to drift into the abyss after a couple of forgettable years both on and off the ice. He came to camp guaranteed nothing and I think that benefited him greatly, as did the outstanding play of Dubnyk during the pre-season. The bar was set and it was now up to him to show what he had left in the tank...apparently he isn't ready to call it a career just yet.

That being said, the Oilers coaching staff have mismanaged the number of consecutive starts that the veteran goaltender made during the last two seasons and it cost both the player and team. By not allowing him enough time to rest and recoup between starts, the goaltender found his performance to be inconsistent and his body starting to betray him. This will be his sixteenth season of what has been a very good NHL career and after that many miles, your body no longer reacts the same...no matter how good a shape you are in.

It is imperative, to the club's success, that the team do not give into the temptation of riding the hot hand and forget the master plan. For a short stint it is fine to ride the hot hand but the game plan must still remain in place. Developing Dubnyk while allowing Khabibulin the opportunity to have a solid season, must continue to be Plan A. In my mind, that can only be done using both guys, as I pointed in the piece Goalie Tandem back in late September. The former Phoenix Coyote standout is no longer a 60 game goalie and Devan Dubnyk has not shown that he is ready for the workload of a number one netminder. Seems pretty straight forward to me.

All coaching staffs owe it to themselves and their players to give the club the best opportunity to win on a nightly basis. That being said, sometimes making the obvious choice, is the wrong decision. It is very possible that a poor decision early in a season could end up costing a team over the long haul. I expect Tom Renney to get Devan Dubnyk back in between the pipes, which will allow Nikolai Khabibulin time to rest and hopefully, at the top of his game for the entire season.