| | |
| --- | --- |
| | |
Oilers Ryan Whitney likely to miss 3-4 weeks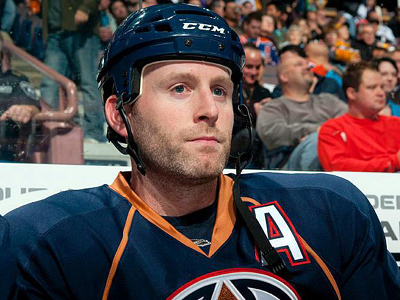 Edmonton - Oct. 28, 2011 - During coach Tom Renney's post game press conference, he gave a quick update on defenceman Ryan Whitney's injury situation. Initially said to be "no big deal", the right knee sprain has gone from a week or so to "three weeks or a little longer".

Anyone who witnessed the bad luck collision between Whitney and Corey Potter, knew that the news would not be good. With the team heading into one of the toughest parts of their schedule, it is clear that Steve Tambellini will need to get on his phone and look at bringing in some help on the blueline.

While I fully expect the club to put in a call for defenceman Jeff Petry, perhaps as early as today for tonight's game against the Avs, I would think the Oilers GM will start looking at what's available around the NHL. After another poor performance from Theo Peckham, the rugged defenceman may find himself as a regular in the press box, if he does not turn things around in short order.

Add to the equation, that Andy Sutton is starting to look a little tired and the need for some extra help on the backend is even more evident.

The trio of Tom Gilbert, Potter and Ladislav Smid have been good to fantastic nearly every night but asking them to take on major minutes for what could amount to a third of the season, is unrealistic. It is bound to blow up at some point and it is the biggest issue this club has had for years.

Why play guys in roles where they are bound to fail? I see no need in waiting for the implosion to occur when it could be avoided entirely. Hopefully the return of Petry, whenever it's made official, will help in the short term and buy Tambellini some time. To watch the Oilers great start go out the window because of injuries would be a shame. Especially, when the team have the assets to go and fill the need that this club desperately needs.
8,399 Stories & Growing Daily...
To date OurHometown.ca has posted a total of 8,399 stories! News, sports, hockey, lifestyle, opinion and more!

Be sure to check out our Contributors and Columnists archives!
Click on Photo or Story Title for more info
OurHometown.ca News Database Last Updated:
Dec. 31, 2021 @ 8:03 AM EST