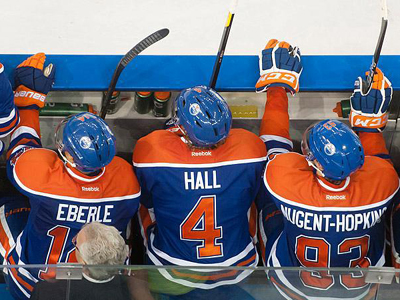 Edmonton - Nov. 9, 2011 - With the recent struggles of the Edmonton Oilers to consistently score more then two goals a night, it may be time for the club to seriously look at changing things upfront. As good as the line of Hall - Nugent-Hopkins - Eberle have been, the trio have hit the wall of late. Add to that, the return of Ales Hemsky and mixing things up, may be just what is needed to spark this teams offence.

With the club currently running with the kid line and the veterans line as their top two lines, it really seems to be feast or famine on a nightly basis. Case in point, last nights game against Montreal. The trio of youngsters were not much of a factor but because the lines are currently structured in the manner they are, you have a guy like Taylor Hall playing less then thirteen minutes 5-on-5 and that can't happen. I understand the coaching staff loves what guys like Shawn Horcoff and Ryan Smyth bring to the table but they are playing far too many minutes. In their defence, in a game like last night, they will play more because of all the penalties the Oilers had to kill but it has been the norm more often then not. It's obvious that Tom Renney is not yet comfortable playing the kids in certain situations so it would make perfect sense to have the youngsters play with guys that the coaching staff trusts in those situations. Hall played his best last season when the coaching staff started to ride him on a nightly basis and playing him fifteen minutes a night does him nor the team any good.

The following combinations are what I would like to see:

Hall -Horcoff - Hemsky
Smyth - RNH - Eberle
Paajarvi - Gagner - Jones
Eager - Belanger - Petrell

As good as Anton Lander has been in a fourth line role, there is simply no room for him at the moment and having a guy like Magnus Paajarvi sit in the press box is not the route this team should be going. Lander would benefit from playing major minutes in Oklahoma City while still learning the ins and outs of the North American game. The move would also allow Sam Gagner to play his natural position and put Eric Belanger in a role that suits him best. Belanger has shown next to nothing and playing him with the likes of Paajarvi and Gagner has done nothing but give the Oilers a very ineffective third line. Ryan Jones played with Paajarvi at times last season and didn't look out of place. In all fairness, Jones seems to get the job done no matter where he has played in the lineup and putting him on a line with the two struggling forwards should force them to simply their games and have a goal or two bounce in off their backsides.

As far as the top two combinations go, splitting the kids up over both lines will allow Renney to put players he is comfortable with in all situations, while still finding major minutes for the talented youngsters. It puts much less pressure on the kids to be the go-to-guys right now, when they are frankly not ready for it. They can still play as a unit on the power play and the occasional shift but 5-on-5 it's time for a change. By adding a guy like Smyth to the Nugent-Hopkins - Eberle combination, it gives the line a more traditional look. It has the three things that most lines need to be successful, a shooter, a net presence and a guy with the ability to feather a pass from almost anywhere on the ice. It's a much more balanced line and should work well in tandem with the Horcoff line.

Before Hemsky was sidelined with a sore shoulder, he and Taylor Hall had started to show some chemistry, after playing all of four periods. Both players have played well with Horcoff in the past and with the captain's current level of play, it seems like the perfect fit. I find it very odd, that after years of not having high-end skilled players to play with Hemsky, that now that they finally do, number 83 isn't playing with any of them. This lineup gives Edmonton the ability to roll their lines in the same situations, be it on the road or on home ice. It seems pretty straight forward to me but...