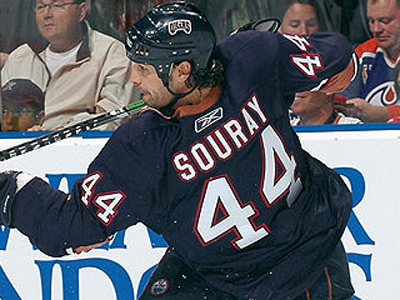 Edmonton - November 21, 2011 - Truthfully, I can't sit here and say that I am surprised by the play of one Sheldon Souray this season. The rugged defenceman has rebounded nicely in Dallas after a tough couple of years in Edmonton. Many were saying that Souray was all but washed up by the end of last year and that he could be counted on being nothing more then a power play specialist, at this point in his career. Come on...did anyone really buy this nonsense? The guy was coming off two horrendous seasons in Edmonton's organization but is only three seasons removed from being this teams MVP. Sheldon is not a top pairing blueliner but he still remains a solid second pairing option that brings a ton to the table.

Funny thing is, that he is exactly the type of defenceman that the Oilers are currently in the market for. A big physical defenceman that can man the point on the power play and transition the puck up ice. No wonder the organization went out and signed him back in the summer of 2007. Unfortunately, the two sides had their differences and ultimately parted ways this summer. Looking back on it now, I am starting to wonder if it was the right thing to do. Should Sheldon Souray still be wearing an Edmonton Oilers jersey?

While Souray is now looked upon in a similar light to another recently departed player that wore number 44, many of those same people felt he should have been the clubs next captain. In the one full season that the former Montreal Canadiens D man played in Oiler silks, there were no complaints. He was everything that the fans had hoped and probably even better then the organization thought he would be, during the 2008-2009 season. He played major minutes in all situations, was one of a handful of players that would drop the mitts to try and change the moment in a game or to let the other team know that they could not take liberties with Edmonton's smaller players. Souray has had two standout seasons during his NHL career and his second year as an Oiler, was one of them. He managed to put up 23 goals and 53 points while missing only one game and did everything out on the ice that a team could expect from a player. After an injury plagued first season in Edmonton, things were definitely looking up for the veteran rear guard. Then came the 2009-2010 campaign and everything changed.

It was another injury filled season for the blueliner and one in which club and player became frustrated with one another. Souray felt management were, at times, trying to force him back into the lineup before he was healthy and ready to go and the organization were less then thrilled with, what they felt, was a player that wasn't doing all he could to get back into the lineup to help the club. Add to that, the big time slip in numbers and his overall poor play when he did dress and things went south in a hurry.. The rest, as they say, is history and Souray now finds himself a member of the Dallas Stars.

The club decided to buyout his contract this past off season, after having him play the entire 2010-2011 season in the AHL. Some felt it may have been possible for the two sides to meet and work things out but I was not one of those people. For the club to go back, on what they felt, was a player unjustly ripping their organization and allow him back into the mix, seemed unlikely. Also add to the fact, that Edmonton has become a much younger team since Souray last played for them and the move makes even less sense. As a club, you want your young core players surrounded by veterans who want to be here and can help the youngsters develop. Players like Shawn Horcoff and Ryan Smyth fit that mold but Sheldon Souray does not. If Souray were to have returned to Edmonton, it would have been for the sole purpose of trying to showcase himself to the other 29 teams. That move could have possibly fetched the Oilers some sort of return for the big defenceman but at what cost? Should Steve Tambellini have risked possibly poisoning the dressing room for the sake of a draft pick? After seeing the side show that former captain Ethan Moreau created during his last couple of years in Edmonton, I can see why the organization wanted no part of this.

Obviously, if the club could go back in time and not have signed Sheldon Souray, they would in a heartbeat. Unfortunately, that's not how things work but to their credit, they stuck to their beliefs and bit the bullet when it came to this situation. They could have tried to bury him in the minors for another season but for what purpose? The signing wound up being a mistake so why not simply remove the distraction? Plus trying to punish the player further accomplishes nothing, other then placing the organization in a poor light, with players across the league. I have little doubt that buying out Sheldon Souray wasn't the easiest pill for this organization to swallow but it was the right thing to do, for both sides.