| | |
| --- | --- |
| | |
Edmonton Oilers continue their losing ways on the road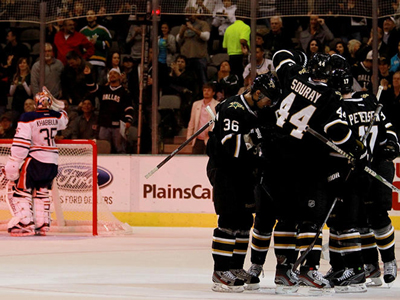 Edmonton - November 22, 2011 - The Edmonton Oilers continued their losing ways on the road, this time dropping a 4-1 decision to the Dallas Stars. The Stars were the aggressor from the get-go and were full marks for the victory. Dallas imposed their will on the young Oilers and punished them physically. Defenceman Mark Fistric, who led the club with seven of their forty-seven hits, was a wrecking ball, crushing one Edmonton player after another. Goaltender Nikolai Khabibulin kept the Oilers in this one stopping 30 of the 33 shots fired his way but the offence went cold after last weekends outburst against the Chicago Blackhawks.

Dallas came out hard from the drop of the puck and had the Oilers pinned in their end for the first ten minutes of the opening stanza. They were rewarded with the games opening marker from former Oiler Toby Peterson. Edmonton started to find their legs as the period moved along and had a glorious scoring chance late in the period but Ales Hemsky rung one off the bar, after a pretty setup from Sam Gagner. The Oilers ended the period with only seven shots on Kari Lehtonen and the big netminder was more then up to the task. The second period was a reversal of sorts.

It was the Oilers who came out strong and were buzzing the Stars goal but unable to sneak one by the Stars netminder. The best chance coming on Ryan Smyth's failed wrap around attempt that went past a yawning Dallas net. As tends to usually happen, the Stars carried the puck down the ice, after the missed opportunity, and made it 2-0 on Steve Ott's third of the campaign. From that point on, the Stars took the period over but were unable to solve Khabibulin, who made several point blank stops on the night. With the Stars still carrying the play, the Oilers got a ray of hope when rookie Ryan Nugent-Hopkins potted his eighth of season, with a slick finish in tight. Suddenly, Edmonton was back in it was just under twenty-five minutes to go. Unfortunately, their hopes were dashed quickly, as the Stars made it 3-1 under a minute later. Michael Ryder scored on a three-on-one break after defenceman Theo Peckham decided to try and throw a big open ice hit at the Stars blueline...and it cost the visitors dearly.

Edmonton could only muster up four shots on goal in the third, despite having three power plays in the period. The Stars simply shut the game down and continued pounding Oilers players all over the ice. Edmonton's overall record dropped to 10-8-2 on the season but they continue to struggle on the road, as they now set with a 3-6-1 mark away from Rexall Place.

The Good

Nugent-Hopkins was by far and away the best Oiler on the night, as he created chance after chance. The Stars took three runs at him on his first shift but the rookie did not back down at all. In fact, he picked himself up of the ice and was dishing it back and knocked rugged forward Brenden Morrow on his behind twice. The kid continues to impress and has easily been the most consistent player this team has upfront. Hard not to be happy with 20 points in his first twenty games in the league, while already establishing himself as a threat on the power play.


A solid performance from Khabibulin kept the Oilers in the game, after a poor start. It was nice to see a solid effort from an Oiler netminder after neither one had been great of late. Khabby was good against the Hawks but how good to you really have to be in a seven goal blowout. Look for Devan Dubnyk to get the call tonight against the Preds.


Defenceman Colten Teubet played only ten minutes on the night but he should probably be playing a little more at this point. He sometimes struggles with the speed of certain players but he is usually positionally sound and always uses his size to his advantage. He once again, led the team in hits with six and has registered twenty-one on the season, in just four games. Those twenty-one hits leave him just four hits shy of the third most on the team. While that number says a lot about this teams lack of jam, it also shows that Teubert understands his role on this club.

The Bad

Theo Peckham must learn to play smart or he can have a regular seat in the press box, once the wounded return. His decision making has now reached the point of almost being laughable and it has to stop. The play he made on the third Dallas goal is simply inexcusable. He is more concerned with making a mark with a big hit then just doing his job. That play was Peckham in a nutshell, I am seriously starting to question if he has any hockey sense whatsoever. It's the same mistake game after game and it's costing this team on a regular basis.


The Stars man handled Edmonton like no other had this season and it needs to be addressed. They need to consider bringing in a top six forward with some size and jam to their game because their kids are going to get killed, without having someone willing and able to protect them. The guys on the fourth line don't play enough to make a difference and it's clear no one is scared of them. Darcy Hordichuk is willing and able but he looked lost last night and it's clear no one fears him. As for Ben Eager, he is simply unwilling. Regardless, they need to add some size to the top nine and in a hurry.


Most people, myself included, were hoping that Taylor Hall would settle down and find his game after his three goal performance on the weekend. If last night was any indication, he still has a ways to go. It's not that he is playing poorly but he;s still trying to do far too much on his own. He doesn't use his linemates enough and he's continually out of control. Player with his type of wheels need to able to throw different looks at their opponents and he doesn't. Hall has one speed, full speed, but he needs to learn to control it, hence making him a much more difficult player to defend.
The Ales Hemsky injury show is really starting to get old. When Mark Fistric ran #83 into the boards, you could see he was in instant discomfort and a few moments later he was shown favouring his shoulder on the Oilers bench. While he did return, he was noticeably absent for the last half of the third period and one can guess what the issue is. I absolutely love what Hemsky brings to the table but he's turning into the Sami Salo of forwards and he has been far less effective since his latest stint on the shelf. Many people wanted him to not go into as many "danger areas" on the ice and he hasn't been...problem is, he is now far less of an effective player.
8,399 Stories & Growing Daily...
To date OurHometown.ca has posted a total of 8,399 stories! News, sports, hockey, lifestyle, opinion and more!

Be sure to check out our Contributors and Columnists archives!
Click on Photo or Story Title for more info
OurHometown.ca News Database Last Updated:
Dec. 31, 2021 @ 8:03 AM EST