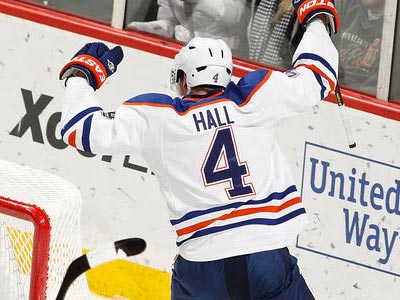 Edmonton - November 26, 2011 - It had been nearly four full years since the Edmonton Oilers had defeated the Minnesota Wild at the Xcel Energy Center. That string of futility mercifully came to an end Friday afternoon, as Edmonton picked up a 5-2 victory, ending the teams seventeen game losing streak in St.Paul. The Oilers continued to ride the hot play of the clubs top two lines, as they combined to score all five of the visitors goals. Goaltender Nikolai Khabibulin was very solid, stopping 30 shots to help Edmonton move within three points of the Northwest leading Wild.

Just as they did against Nashville on Tuesday night, the Oilers came out buzzing from the drop of the puck and set the tone early. While the top two lines did not score on their first shifts of the game, they both managed to pin the Wild in their own end and did everything but get on the score sheet. The message was sent, Edmonton wanted this game and they wanted it bad. At the 5:15 mark, they were rewarded with the games first goal.

Ryan Smyth took a pass from Jordan Eberle, in front of the Minnesota goal, and banged in his team leading twelfth of the campaign, past netminder Josh Harding. The Wild manged to keep the score 1-0, despite tough guy Brad Staubitz attempt to allow the visitors to increase their lead, by taking two minors on the same play and giving Edmonton a four minute power play. Minnesota killed them off without allowing a shot on goal but eight and half minutes later, Staubitz did the same thing and this time, the Oilers made them pay.

Rookie Ryan Nugent-Hopkins picked up his first of two on the night, when he cruised in from the slot and poked in a loose puck to give Edmonton a two goal advantage. Before the period was out, forward Devin Setoguchi knocked in his own rebound, past Khabibulin to pull the Wild within one. Setoguchi's initial shot appeared to have been hit out of mid-air with a high stick but the call was not made and the goal stood.

Minnesota evened the score at the nine minute mark, when Oiler killer, Pierre-Marc Bouchard, picked the pocket of a surprised Ryan Nugent-Hopkins at centre ice, turned the play back up ice and managed to beat Khabibulin, with a nice move for the equalizer. The game would remain tied, until Taylor Hall broke the deadlock with just under four minutes to go, in the middle stanza. Hall was simply, in the right place at the right time. Tom Gilbert's point shot ricocheted towards the talented winger and he calmly deposited the puck into the yawning cage. Edmonton was twenty minutes away from ending their losing ways in Minnesota. To their credit, they came out and left it all on the table in the third.

Both teams had scoring chances in the final twenty but it was the Oilers who managed to restore their two goal lead. Shawn Horcoff snapped his seventh of the season, from just inside the slot, after a brilliant play from Ales Hemsky left Wild defencman Justin Falk swimming on the ice. Hemsky picked up Taylor Hall's pass behind the Minnesota goal and pulled his trademark button hook, which sent poor Falk for a tumble and Hemmer plenty of room to make a pretty pass to the Oiler captain, who made no mistake. The teams exchanged chances the rest of the way but score didn't change, until Nugent-Hopkins collected his second of the night, tenth of the season, into an empty net.

Edmonton are off to Colorado, where they will finish their four game road trip against the Avalanche. The Oilers have won two of three on their current trip and are now winners of three of their past four games. That being said, the Avs will be a tough test on Saturday night. Playing in Colorado on the back end of back-to-back games is always tough on opposing clubs but it becomes an even greater challenge, when you consider the Avalanche haven't played since Wednesday night and have won just two of their last eleven games. They will be hungry and come out hard against what I am sure will be a tired Edmonton club.

The Good

Taylor Hall was all over the ice and I can't remember a shift, that I didn't notice him doing something positive out there. His game is starting to come and it looks as though moving him onto a line with Ales Hemsky and Shawn Horcoff has kept him from over doing it. Maybe it was because he felt he had more pressure on him to continually produce playing with Eberle and RNH but he seems a whole lot calmer playing with #10 & #83. Don't be surprised to see Hall take a major step over the next twenty games.


The top two lines continue to produce but I still sit here scratching my head, as to why it took so long to make the moves. The lines are so much more difficult for the opposition to defend and not surprisingly they are suddenly scoring on the road. At this point, you could make the argument, that Edmonton currently has the best one-two punch in the league.With three of the six already on a point a game pace or better and both Hall and Ales Hemsky not far off, it's hard to not be impressed with what they have been able to do of late.


Although the third line failed to get on to the score sheet yet again, the trio of Jones-Belanger-Gagner probably played their best game as line, against the Wild. They created chances as a unit and they do seem to finally be finding some chemistry. They played a fair amount 5-on-5 and all three still saw regular duty in their usual roles on special teams. If these guys could somehow start clicking, even a little, Edmonton would be very difficult to beat on a nightly basis. Yes they still have holes on their D but if they have the puck all the time, their shortcomings become far less noticeable.


Having Ryan Whitney back in the starting lineup is a huge lift for this club. At this point, Whitney is nowhere near the defenceman he was during the early part of last season but just having him in the mix is enough. With Gilbert and Smid playing at the level they are, it will allow Ryan time to feel comfortable again before he has to do any heavy lifting. Give the coaching staff credit for not rushing him back into a situation he wasn't ready for. While he saw time 5-on-5 and on both special teams, only Colten Teubert played fewer minutes. In my mind, that is the perfect way to work him back in.


Regardless of what his plus/minus rating was against the Blackhawks during the Oiler 9-2 drubbing of Chicago, Theo Peckham played his best game of the season last night. He was solid positionally, didn't make any bone head passes and while he played physical, he kept it under control. There were no ill timed attempts at big open ice hits that left the team caught on odd man rushes. When Theo plays within himself, he is a solid third pairing guy but he seems to forget this far too often.


For the first time this season, an Edmonton player actually got under the oppositions skin. Darcy Hordichuk did his job to tee yesterday afternoon. He sucked Brad Staubitz into taking two double minors, which had a major effect on the outcome game. He also made his presence felt out on the ice, delivering hits and trying to get things started. Lets hope Ben Eager was taking notes.

The Bad

The fact that Magnus Paajarvi did not play is obviously concerning but understandable why the coaching staff wanted bigger bodies, Hordichuk and Lennart Petrell, in against a physical Minnesota team. That being said, Paajarvi better be in against the Avs because he is coming off one of his best performances in some time and it should be a good opportunity to build his confidence further.


With Ryan Whitney returning to the lineup, everyone was assuming that would be the end of seeing Eric Belanger out on the Oilers second power play unit. Unfortunately, that still isn't the case and I am simply baffled. He was given just under three minutes on the PP against the Wild, while Jeff Petry received all of fourteen seconds...like I said, baffling.