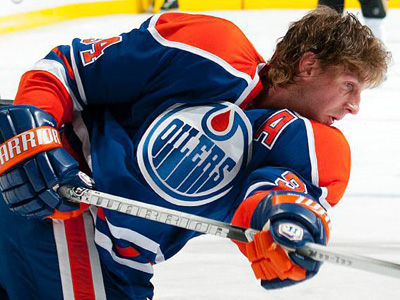 Edmonton - December 20, 2011 - When Ryan Smyth started this season the way he did, all the talk was how great it was to have him back in the fold. It seemed like a no-brainer that Edmonton would seriously have to consider signing the veteran winger to a contract extension. While that is definitely a possibility, there is no guarantee that the Oilers will re-sign one of the most popular players in this teams storied history.

Smyth has been a great addition to this years roster and as good as he has been on the ice, I am guessing he has been even better in the room. In my mind, whatever Smyth gives them on the ice is a bonus, as long as he is helping the kids develop off the ice.

Having a veteran like Smyth on the roster has been to tempting of an option for Tom Renney and his coaching staff to stay away from. Many felt the sixteen year veteran would be used in a far less prominent role then he has been but the coaching staff is very comfortable with putting him out in all situations. Unfortunately for both the team and player, Smyth has played far too much this season and he his play has already started to hit the wall. At this stage of the game, Ryan should be nothing more then a second/third line guy who gets a regular shift on the power play. For the rest of this season, he will likely see time on all three of the clubs top lines but if Smyth were to be re-signed at seasons end, it would have to be in a reduced role.

Barring any sort of major shakeup, the following forwards would be guaranteed a top nine spot next season:

Taylor Hall
Jordan Eberle
Ryan Nugent-Hopkins
Magnus Paajarvi
Anton Lander
Shawn Horcoff

The first five names on that list consist of players that should all be a large part of this teams future moving forward. The big three are going to be the straws that stir the drink and in Paajarvi and Lander, you have two players that at the very least, will be solid third line guys for years to come. That leaves captain Shawn Horcoff as the final name on that list and that has more to do with his $5.5 million cap hit for the next three years, then it does with his play. That leaves three spots left to fill out the top nine and in my mind, it is far from automatic that Smyth will fill one of those spots.

While General Manager Steve Tambellini and company will have some tough decisions to make when it comes to filling out the Oilers roster for the 2012-2013 season, they will have some in house options that they could look to fill those spots with.

Teemu Hartikainen - The rugged Finnish forward will make this team next season and it should be on the third line with centre Anton Lander. He will be 22 years old next season and should be given every opportunity to earn a regular spot on this team. Hartikainen has that physical element and size that this club desperately needs to add into their top nine and he has a nice set of hands to boot.

Sam Gagner/Ales Hemsky/UFA-Trade - There is no way this team will have both Sam Gagner and Ales Hemsky on their roster come next October. In fact, it would not be terribly shocking if neither of them were Oilers come 2012-2013. While the chances of Gagner still being here are far greater then Hemsky, if they can find a way to bring in a top flight defenceman via trade, you would think Sam would be part of any package going the other way. Tambellini could also decide to look outside of the organization, to fill a spot...be it via trade or free agency.

Ryan Jones - All Jones has done for the past season and a half, is produce and he has been able to turn himself into one of the best third/fourth line players in the league. Should he ever see time in the top six or on the power play? No, he should not. Would the Oilers be better off having Jones on the fourth line? Possibly but how do you stick this guy down on your fourth line? Jones has earned a shot at having a regular spot on the third line.

Add Ryan Smyth into that mix and things suddenly become over crowded. If this club has Magnus Paajarvi penciled in for a top six role next season, then a player like Smyth or Jones would have the inside track to fill that third line role. If they decide to go with a Hartikainen - Lander - Paajarvi unit, then you would think that Gagner and someone brought in from outside the organization, would fill the final two spots on the second line. That being said, there is also the possibility that the organization decides to bring in two players, if both Gagner and Hemsky were to find new homes.

Regardless of what route Edmonton decides to go, this management team has some tough decisions to make in the not to distant future and those decisions, could very well leave many Oiler fans more then a little disappointed.