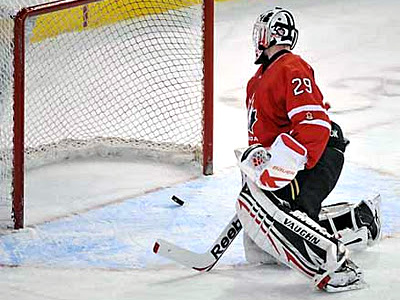 Edmonton - December 24, 2011 - While many seem to feel this years tournament will be a three horse race between Team Canada, Russia and the USA, the Swedes proved that should not be left out of the mix, in defeating Canada by a score of 5-3 on Friday night at Rexall Place in Edmonton.

Canada's starting netminder Mark Visentin struggled mightily, allowing four goals in the first twenty three minutes of action before being replaced by Scott Wedgewood midway thru the second. While one must be cautious about taking too much from a players performance in one game, Visentin looked shaky from the outset, despite Canada jumping out too an early 1-0 lead.

Mark Stone opened the scoring just past the ten minute mark of the first period, when he was sent in all alone on a nice feed from Jaden Schwartz. Stone made a beautiful move to beat Johan Gustafsson and give the locals plenty to cheer about.

With just over two minutes to play in the first, the Swedes would tie it up when Rickard Rakell snapped a shot past the Canadian puck stopper. Forward Devante Smith-Pelly turned the puck over along the boards and William Karlsson pounced on the loose puck and fed Rakell who beat a stunned Visentin and the visitors were just getting started.

Before the period was out, Sweden would score two more and head to the dressing room with a 3-1 lead. Victor Rask made it 2-1 moments after Rakell tied things up and Ottawa Senators prospect Mika Zibanejad silenced the crowd, when he beat Visentin with a great wrist shot after defenceman Dougie Hamilton turned the puck over at centre ice.

It was much of the same to start the second, as the lead was stretched to three when a John Klingberg point shot deflected off Johan Larsson and found its way past Visentin. Four goals in five minutes is never a good thing but the Swedes were deserving of the lead. Canada was constantly turning pucks over and seemed more interested in running every Swedish player into next week, instead of just playing hockey.

Which brings me to Mr.Smith-Pelly. He never stops out there and is looking to nail guys at every turn but at times it is a little much. While the fans all enjoy his loud runs at opposing teams players, they more often then not, leave Team Canada with odd man rushes to deal with and on their heels. The kid brings a lot to the table but he needs to tone it down a little. The Anaheim Ducks prospect was fortunate to have not been penalized for his numerous late hits and occasional charges. The passion Smith-Pelly shows is great but he must be much more selective because it will end up hurting this team in the long run.

Despite trailing by three, Canada manged to do what they always seem to do in international play...fight back. Brendan Gallagher scored on the man advantage with just over three minutes to go in the frame. The Vancouver Giants forward swatted a rebound out of mid-air and past Gustafsson to give Canada hope heading into the final frame.

Canada came out flying in the third and manged to cut the lead to one, when captain Jaden Schwartz scored a shorthanded marker on a breakaway. Schwartz was buzzing throughout the game and was Canada's best player on the night. The captain will have to be a main catalyst for this team to be successful at this years tournament and if last night's performance is any indication, he is ready for challenge.

From that point on, Canada carried much of the play but were unable to find the equalizer, thanks in large part to the play of Gustafsson. The Swedish netminder was positionally sound all game long and simply let pucks hit him. Team Canada was firing shots from everywhere, in hopes of rattling the youngster but it had no effect. He shut the door and Canada simply ran out of time. Zibanejad would put this one to bed, with his second of the night into an empty net.