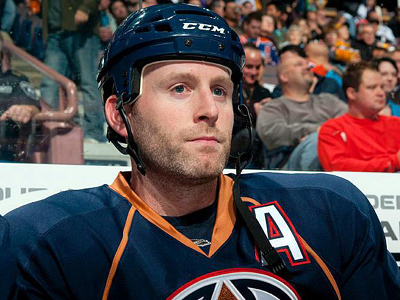 Edmonton - December 28, 2011 - With Ryan Whitney once again on the sidelines, the time has come for the Edmonton Oilers to seriously contemplate what their next move should be with the talented defenceman. There is no question this team badly needs a healthy Whitney in their lineup but that likely won't happen until next season. As poor as the former Pittsburgh Penguin has played this year, he still remains the teams third or fourth best option on the blueline...which says a lot about the current state of the Oilers defence.

It's clear watching Whitney that he is not comfortable and in recent weeks, he has said his ankle still feels weak and he is playing in constant pain. Not exactly good signs and with his most recent trip to the sidelines, one has to wonder if shutting him down until he feels100% healthy, may not be best for both the player and team. Watch the video below, from yesterday's off day, and you tell me how happy Whitney looks?

The guy plays a major role in how successful this team can be and you can tell his current level of play is killing him. He doesn't feel right and to make matters worse, he has no idea when he will feel better. Whitney has been assured that everything will eventually return to normal but no one can tell him how long that will take. That can't be easy on any player and for a player as good as Ryan Whitney, settling for mediocrity is not an option.

He knows what he is capable of doing out on that ice and that he is a difference maker. That being said, by continually pushing yourself when you are not physically able to perform to your usual standard, accomplishes exactly what? Not sure if this is happening because of the stubbornness of the player, the organization or a bit of both but I do know it needs to stop and immediately.


It sucks for Edmonton that they have basically played without their top defender for exactly one calender year worth of games but the situation is what it is. This management team is fully aware that quality defencemen don't grow on trees and by allowing such a player to continue to play, when he clearly needs more time to heal, is something this team can ill afford to do. Having Ryan Whitney ready to go, come 2012-2013, must become a top priority for the Edmonton Oilers and the best way to accomplish that, is by shutting him down. If he needs another eight months to ensure he will be healthy and ready to play to his full capacity, then it is a sacrifice this organization must make.