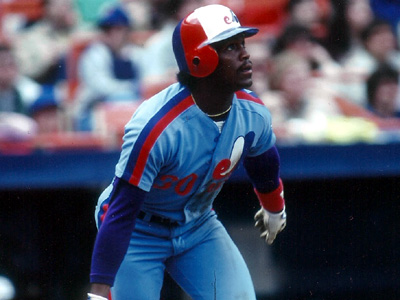 Edmonton - January 10, 2012 - First let me start by congratulating Barry Larkin on his election into the baseball Hall of Fame. It is an honour that the long time Cincinnati Reds shortstop earned over a wonderful nineteen year career. Unfortunately, far too many of the 573 Baseball writers who were given ballots this year, felt that Larkin was the only worthy candidate for enshrinement on this years ballot. With that being the case, former Montreal Expos great Tim Raines was left on the outside looking in for the fifth consecutive year.

While nothing in yesterday's voting results came as any real surprise, it was still somewhat disappointing. Everyone knew coming in that the only player that had a legit shot of making it into the Hall would be Larkin. With this years class of first ballot players being very weak, I was hoping for Raines to make some inroads and possibly reach the 55% mark in support. While he did make a jump forward of 11.2%, it was not near the level of support I was hoping the seven time All Star would receive.

In my previous piece on Raines, I stated my views on his candidacy and that I would vote for these players:

Raines, Larkin, Trammell, Morris, Smith

After looking over the numbers one more time, I decided to change my mind and also included Jeff Bagwell to the list of players I would vote for. Obviously voters can change their minds at any point and sometimes taking a longer look at players career can make that difference. That is why I find it so puzzling that Tim Raines has been unable to make up more ground in his first five years on the ballot.

There were 573 writers who had Hall of Fame voting privileges this year and I am supposed to believe that only 279 of them think Tim Raines belongs in Cooperstown? These are people that cover this great game of baseball, some for decades, and the best they can come up with is 48.7%? How on earth could 294 voters decided to leave Tim Raines off their ballot and yet 496 punched Larkin's name? I simply do not get it.

The major catalyst for a player to gain enshrinement into the Hall of Fame is largely based on that individuals offensive output. Nothing against Barry Larkin but as good a ballplayer as he was, his stats were no better then the stat line Raines accumulated over his career. Yes Larkin's power numbers were slightly better but what else did he do better then "Rock" when the two were at the dish or on the bases?

Many detractors of Raines will use the fact of him not having 3,000 hits as a blemish on his resume but Barry had 2,340 which was nearly 300 less then the 1986 NL Batting Champion. Both were among the best clutch hitters in the NL for years and while Larkin was a great base runner and a very successful base stealer, he doesn't compare to Raines. Frankly, Tim Raines was one of the best base runners the game of baseball has ever seen.

The big advantage Larkin has over Raines is the fact that he played shortstop and was a great defensive player. His glove work clearly played a role in him getting into the Hall but was it the main reason? I would say no but I do think the biggest reason the twelve time All Star is looked upon as a surefire Hall of Famer was because of the position he played on defence. I do understand that mindset but I do not get how the argument of looking at Tim Raines as the second best leadoff hitter of all time, is simply dismissed by many as nothing more then a foot note. While it is rare for middle infielders to be such great all around players like a Larkin or Roberto Alomar, I would argue that it is far more difficult to find players who were able to change the complexion of a game from the top of the order the way Tim Raines did. He is a very rare breed to have played this game and he continues to be overlooked as one of the best offensive weapons of his generation and it is an absolute shame.

None of these arguments are meant to downplay the greatness of players like Larkin, Alomar or anyone else. Both of those guys and the others I have used in past comparisons to the former Expos legend, have been wonderful ball players and are all worthy of their spots in the Hall of Fame but so is Tim Raines.

With the 2013 ballot featuring the first batch of great players from the "steroid era", as well as Craig Biggio and the following couple of ballots have names like Greg Maddux, Tom Glavine, Frank Thomas, Randy Johnson, John Smoltz, Pedro Martinez, Ken Griffey Jr and Trevor Hoffman all up for induction, I fear players like Raines may find themselves lost in the shuffle. I have little doubt, that one day Tim Raines will have a plaque in Cooperstown amongst the greats of the game. Unfortunately, it appears as though he may have to wait some time before he is granted that honour and it is a ridiculous situation, for such a great ball player to be in.