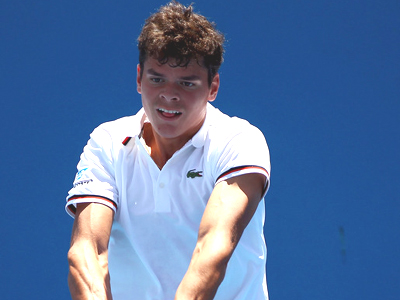 Edmonton - January 17, 2012 - The second day of competition at the 2012 Australian Open saw Andy Murray given a bit of a push and Novak Djokovic demonstrating that he is still, without question, the man to beat at this year's event. Canadian Milos Raonic also took the court on Day Two and had little trouble moving on to the second round.

The world's top ranked player took on 109th ranked Paolo Lorenzi in his opening match and the veteran managed to break Djokovic early on in the first set and hold a 2-1 lead. Unfortunately, Lorenzi would not win another game the entire afternoon. Novak would take the next seventeen straight games in cruising to a 6-2, 6-0, 6-0 thrashing of the helpless Italian. The Serb looked to be in top form and was moving effortlessly around the court while simply toying with his opponent.

Andy Murray did not have as easy of a time with 77th ranked Ryan Harrison. The American actually took the first set off Murray and made the number four player in world work to earn his spot in the second round with a 4-6, 6-3, 6-4, 6-2 victory. To Murray's credit, he made slight adjustments to his return of serve early in the second set and took control of the match from that point on but the American would not go down without a fight.The Scottish-man struggled with his serve for much of the match and if his plans are to go deep into this tournament, a 54% first serve won't cut it.

Raonic who is ranked twenty-third for the event, took on Italian Filippo Volandri, who managed to stay with the young Canadian in the opening set but could muster up little else. As usual, Raonic rode the strength of his service game to a rather convincing 6-4, 6-0, 6-2 victory. The twenty-one year old served up thirteen aces on the afternoon while committing only four unforced errors. With American Andy Roddick also winning his opening round match, the youngster seems to be headed towards a third round collision with the former US Open champion, in what could be a very entertaining and fun match to watch.

Other men advancing to the second round included: the trio of Frenchmen Jo-Wilfried Tsonga, Gael Monfils and Gilles Simon as well as Spaniard David Ferrer and Aussie Lleyton Hewitt. The third day of competition will see the likes of Rafael Nadal, Roger Federer, Tomas Berdych, Juan Martin Del Potro, Mardy Fish and Australian teenager Bernard Tomic all in second round matches.