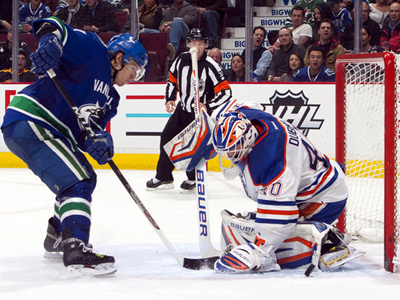 Edmonton - January 25, 2012 - In recent weeks, one could sometimes question the Edmonton Oilers effort level on a nightly basis but for the second consecutive evening, this team gave all they had against two of the premier teams in the Western Conference. While they were able to pull off a 2-1 shootout victory on Monday night against the San Jose Sharks, they fell just short of pulling off the same result against the Vancouver Canucks, losing 3-2 in yet another shootout. Cody Hodgson scored the shootout winner and Roberto Luongo stopped four of the five shooters he faced, in beating Edmonton for the third time this season. Devan Dubnyk started in goal for the second consecutive night and was outstanding in making 33 saves on the night.

After both teams exchanged chances early in the opening frame, it would be the Canucks who would open the scoring courtesy of Daniel Sedin. After making a great play to knock the puck off Taylor Hall's stick and keep a Vancouver attack alive, Sedin took a nifty feed from Alex Burrows and rifled a laser over Dubnyk's shoulder for an early 1-0 lead. The goal was Daniel's twenty-first of the season and second of the campaign against Edmonton.

That lead stood until the 9:43 mark of the second period, when the Oilers finally beat Luongo, on a beautiful three way passing play that was finished off by Shawn Horcoff, to knot things up. After Hall had gained possession inside the Vancouver zone, the puck made its way over to Ales Hemsky, who found a streaking Hall and the youngster managed to out wait Luongo and his defenders, before sending a lovely cross crease feed to the captain, who buried his ninth into a wide open cage.

The rest of the period saw the two sides exchanging chances, with the best of the bunch coming with next to no time remaining in the middle stanza. Kevin Bieksa managed to hit Jannik Hansen with a great stretch pass that sent the Dane in on all alone but Dubnyk was up to the task, making the stop with only seconds remaining in the period. How both Oiler defencemen allowed the Canucks winger to get behind them is a mystery to me but thanks to their netminder, the score remained even after forty minutes.

Vancouver would regain the lead early in third period, when David Booth would bang a loose puck past Dubnyk for only his eighth on the season. After awkwardly stopping a harmless looking shot from Christopher Higgins, the puck somehow managed to sneak behind Dubnyk and sat loose in his goal crease, until Booth managed to tap it into the gaping net, despite having both Hall and Hemsky draped all over him. It was not a good goal on Dubnyk's part, as he played Higgins initial shot as if it were a grenade but he would more then make up for his blunder, with some timely saves.

It was a tough break for Edmonton but their continued hard work and determination would pay off, when Taylor Hall would even things up with under five minutes to play. With Dan Hamhuis in the penalty box and the Oilers in complete control on the power play, Hemsky found a wide open Corey Potter who's one time blast was redirected perfectly by Hall and past a helpless Luongo. The goal was Taylor's tenth power play marker on the season, which puts him in a tie with the Ducks Corey Perry for third place among the league leaders.

Neither team was able to find that next goal in final few minutes so this one went to overtime...and what an overtime it was. The two sides took full advantage of the extra ice that comes with playing four aside, as they both decided to play a wide open overtime period. It was chance after chance at both ends of the rink and both goaltenders were simply outstanding, in what was one of the most entertaining extra sessions I have seen in any teams play this season. Luongo would stone Hall on a point blank opportunity with a brilliant pad save and then made a great goal line stand, on an in tight attempt from Sam Gagner to keep Edmonton from ending the proceedings. Dubnyk was even better, in stopping all eight Vancouver shots fired his way, including a brilliant three save sequence that saw the big man do his best Bill Ranford impersonation.

After a wonderful OT session, it was off to the shootout where the two netminders continued to stand tall. Dubnyk was beat by Alex Edler on Vancouver's first shot but stopped the next three attempts. While Luongo stopped the first two before Hemsky beat him with a slick move to send it to extra shooters. After both sides fourth attempts were turned aside, Hodgson slid a shot between Dubnyk's pads to put the Canucks back in front and Luongo would stop Horcoff, to finish it off.

The win gives Vancouver 64 points heading into the All-Star break, which is good enough for second place in the Western Conference standings. While Edmonton sits in fourteenth place with 41 points after earning the single point in the shootout loss.


Oil Notes
The game marked the return of defenceman Ryan Whitney to the Oilers lineup. Whitney had missed the previous fourteen games, after suffering from continual pain in his surgically repaired ankle. Last night was just his eighteenth game of the season, in what has been another injury plagued campaign for the Oilers best defenceman. In his latest return to the lineup, Ryan played just under eighteen and a half minutes and while he still looks nothing like the player that he was last season, he was far better then he has been at any point this season. Unfortunately for the talented blueliner, there is real concern that he may never again be the player he was per-surgery and that is something that he will have to come to grips with and adjust his game accordingly.