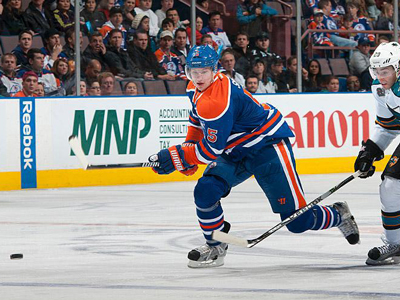 Edmonton - January 28, 2012 - Heading into this season, Ladislav Smid was on the sideline nursing a sore shoulder and I had questioned if the time had come for the Oilers to seriously consider moving the popular defenceman. Smid had become somewhat injury prone in recent seasons and with him already getting hurt during the pre-season, it wasn't looking good for the big defender. Though he was expected to miss the first handful of games to start the year, Smid was in the starting lineup on opening night against the Pittsburgh Penguins and he has not looked back since. Ladislav has turned himself into the solid top four shutdown defenceman that both fans and the organization were hoping he could be. With Smid finally comfortable in his role, the question now becomes how good can this guy get? In my mind, he has more to give and should only get better from here on out.

The soon to be twenty-six year old blueliner, is currently playing in his sixth full season and after taking some time to find his way in the NHL, Smid finally seems comfortable in his own skin. You can see it in his play. His game has improved by leaps and bounds in the past three seasons. He went from being a liability in certain roles, to now being the Oilers got to guy in shorthanded situations, while logging major minutes five-on-five. Only Tom Gilbert has averaged more ice time then Smid and his 21:13 and he has seemed to relish the extra responsibility that has been put onto his shoulders.

Add to that, the fact that he is among the league leaders in blocking shots and one realizes that he has no qualms doing whatever is necessary, to help his team win. The former first round selection, is one of those guys that all clubs need. He has shown the ability to constantly play through all sorts of pain while still making the life of opposing forwards difficult. A far cry from seasons gone by. The former ninth overall selection, has turned himself into that "warrior" type blueliner that all teams want.

Like many players on the Oilers, he is being asked to do far more then he should but a lack of depth and injuries to the backend, have him playing in the role this team currently needs and frankly, he is excelling. When the same thing was asked of the former Anaheim Duck last season, he was clearly in over his head. In contrast, this year he in no longer regularly out of position or being blown past by opposing players. He finally seems to be able to process the game at a level he is comfortable with. Call it what you will but the fact that Smid has been able to turn around his game in such short order, is pretty damn impressive.

Ladislav Smid has always been very vocal about wanting to be part of the solution here. He wants to be an Edmonton Oiler and has no interest in playing elsewhere.Smid has solidified himself as part of the solution and is no longer being looked upon as nothing more then an afterthought. This is a guy this organization already traded, in the failed Dany Heatly deal, and was also being asked about by the likes of the Nashville Predators and Chicago Blackhawks at last season's trade deadline. Teams know how important guys like Ladislav are...that is if you plan on being a winning organization.He will do anything for his teammates and is loved in that dressing room. Smid is a "glue guy" and just the type of player that a rebuilding club needs...especially this one.