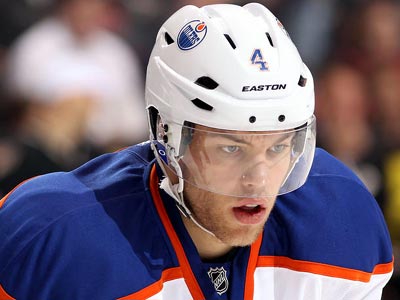 Edmonton - January 30, 2012 - With the future of Sidney Crosby in more doubt today than ever before, the time appears to be at hand for this league to find its "new face" of the NHL.

While there is no player in the league today that is on the same level as Sid, there are many great players that could possibly inherit the role.

The most obvious choices would be players like Jonathan Toews or Steven Stamkos and while both would be solid choices, in my mind, I only see one player that would be both willing and able to deal with the scrutiny that such a role brings.

That player is the Edmonton Oilers winger Taylor Hall.

I am sure that people will read this and think I am just an Oilers columnist/fan that is talking out of his you know what but I beg to differ. If Hall were playing for any other franchise, my answer would be the same.

He has that "it" factor and seems to relish the opportunity to be "the man". In fact, I think it goes beyond that. Taylor appears to be wired differently then most and the way I see it, this kid wants to be the best and he seems willing to do anything to ensure he brings his team with him, to that next level.

The youngster is a born leader and wears his heart on his sleeve...as he displayed two weekends ago, on Hockey Night In Canada. When some made reference to his on ice outburst during yet another Edmonton loss against the Calgary Flames, in which he clearly questioned the coaching staff for pulling their goalie with over three minutes to play, all I could do was chuckle.

The former first overall selection is the furthest thing from a selfish player that you will find. If anything, he is at the complete opposite end of the spectrum. His frustration obviously got the best of him but in my mind, it is very simple to understand. Hall does not like to lose and won't settle for anything but the very best from himself and his teammates.

Remember, that this is the guy who played that game despite having his face stepped on and badly cut, only a few days earlier. No one was expecting him to play but in his mind, he had to get out there and help his struggling teammates. If he didn't suit up he felt he would be "cheating his teammates".

The word quit is not in his vocabulary and is what makes the kid a winner.

Taylor has looked fairly comfortable with the media since coming into the NHL and doesn't seem the least bit fazed by the camera. After having his head accidentally sliced open, by teammate Corey Potter's skate, the kid didn't hide.

Instead, he came out and took on a very tough situation like a pro. Most players would want no part of such a situation but he understood it was a necessity...no matter how difficult it may have been for him personally. He did what had to be done.

Hall understands how big a role the media plays in today's NHL and in marketing this great game. In order to be considered one of the league's star players, one has to be willing to interact with the media and look comfortable while doing it.

On the ice, his performance is improving with each passing game. With the Oilers current injury situation, Hall has had very little support upfront and yet he has started to emerge as a dominant force on a nightly basis. Since returning from an early season shoulder injury, Taylor has taken his game to a whole different level.

On most nights, he is not only the best Edmonton Oiler but he is more often then not, the best player on the ice.

Hall has been taking that step without the services of his two regular and future linemates, in Jordan Eberle and Ryan Nugent-Hopkins. With this trio already in place and more help on the way, his production level will continue to climb and could see him finish among the league's scoring leaders, in very short order and for years to come.

Do I think he will win a scoring title? Probably not but the potential is there. However I do expect him to challenge yearly for the Rocket Richard trophy and that is what sells this game to the masses. Scoring goals is where it is at and Hall will score his fair share for the next decade or two.

He has that special quality that few players have...he brings fans to the edge of their seats. Whenever he jumps over the boards, you are waiting to see what he will do or try next. Much like Crosby, Hall wants to be that difference maker. The word pressure means nothing to him and he does not fear failing...he just will not accept it as the final outcome.

He does not shy away from the spotlight and if anything, he seems to prefer when it is shone directly on him. A special breed indeed and one that the NHL should market properly, in hopes of furthering the growth of this great game.

I am not suggesting for a minute that Taylor Hall is as good or talented a player as Sidney Crosby. Number 87 is a generational talent and those obviously do not come around every day. Having said that, I honestly believe that Hall's total package, makes him an obvious choice to succeed Sidney as the next face of the NHL.

Lets hope Crosby can make a full recovery and continue to dazzle and excite hockey fans everywhere for years to come. If that is no longer possible, there is a kid in Edmonton that would be more than willing and able, to carry the torch as the games biggest attraction.