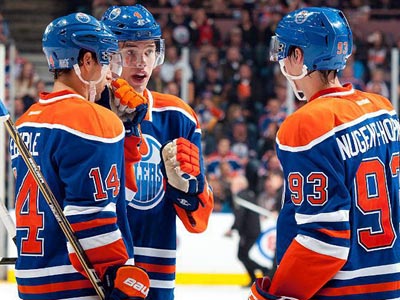 Edmonton - January 31, 2012 - The post All-Star Game stretch run is set to begin and the Edmonton Oilers finally close to getting some of their healthy bodies back into the fold. With players coming back in and possibly others, like Ales Hemsky, going out, what should the Oilers lines look like moving forward?

While these moves would likely not be happen until after the NHL trade deadline, I would like to see them try the following over the final twenty-one games. That is of course, barring any additions that the club might be able to bring back via trade.

Hall - Nugent-Hopkins - Eberle
Omark - Gagner - Hartikainen
Jones - Horcoff - Smyth
Eager - Belanger - Hordichuk/Petrell

While Magnus Paajarvi looked a little better when he was re-called from Oklahoma City, he still doesn't look the same player he was last season. At this point, leaving him in OKC until next season might be the best thing for him. The combination of Paajarvi and Anton Lander should help the Barons to make a playoff push and have the two play top six minutes in all situations.

Linus Omark should be fully healed from his broken ankle and should be given a full shot to show what he can do. They need to know what Omark can bring and if he does not fit into the long term plans, hopefully he plays well enough to garner some interest from other organizations and they can look to move the slick Swede in the off-season.

Teemu Hartikainen is another guy, who should be brought back up and given a shot at playing a top six or nine role, with second unit power play time. The feisty Finn didn't have a particularly good training camp and has been less then stellar in his two brief call ups this season. Having said, he had played a bunch of games before his both of his brief auditions and looked to have little in the tank but he still needs to be better.I say give him a shot for the rest of the season in a more prominent role and have Ryan Smyth take him under his wing. Hartikainen is a key component to Edmonton turning things around as early as next season and he should be groomed for that role now.

A third line featuring Jones, Horcoff and Smyth should be a nice combo...as long as the coaching staff plays them as such and not as the clubs first line five-on-five. This teams best line is Hall - Nugent-Hopkins - Eberle and it isn't even close. They need to have the reigns handed over to them and just let them run with it. There will definitely be growing pains but those are going to have to occur at some point...so why not do it now and have them learn from it? Seems to make sense to me but we shall see what unfolds.

As far as special teams go, I would like to see the following pairs killing penalties:

Jones - Horcoff
Eberle - Belanger
Petrell/Hall - Horcoff

Have Horcoff and Eric Belanger focus on what they do best and look to get both Hall and Eberle involved in short handed situations. You hear Oilers NOW host and colour guy Bob Stauffer continually going on about this and he is a 100% correct. Not all star players kill penalties but many due and I see both Taylor and Jordan as players that would excel in that role.

While bringing Hall along slowly makes the most sense, it is still something they can easily accomplish. By using him occasionally on the third unit and near the end of kills, when the opportunity arises, he would not have to be thrown to the wolves and could take time to adjust.

As for Eberle, I fully expected him to be worked into the penalty kill this season but the coaching decided to give those minutes to Smyth and hence why the veteran has looked like he has been playing in quicksand, for the last two plus months. Having said that, they can now rectify their short sightedness and start using Jordan in the role immediately. The Oilers point leader occasionally killed penalties during last season and he wasn't too bad. Was he great at it? No but the guy's hockey sense is off the charts and I have little doubt he would turn himself into a good penalty killer. Also, the kid is money on breakaways and his presence alone, would add a different dimension to Edmonton's penalty killing, while making NHL defencemen think twice, before moving the puck on the power play.

The power play is a bit of a tricky situation because they tend to use Horcoff on the first unit to take draws but it really should be Smyth who is playing with the big boys on the man advantage. Also, Nugent-Hopkins has been double shifted at various times on the power play but for this exercise, we will just have RNH on the Oilers top unit.

First Unit
Potter - Eberle
Hall - Smyth - Nugent-Hopkins

Second Unit
Petry - Whitney/Gilbert
Omark - Gagner - Hartikainen

You could swap out Potter but he has been good on the man advantage all season long, so why change it? Plus the return of RNH, will free Potter up to get his shot off much more often. Smyth could take the draws on the power play and then firmly plant himself in front of the opposing teams net and making life easier for the three kids.

As far as the second unit goes, Omark and Hartikainen have to be given regular duty in five-on-four situations. If nothing else, Linus is a power play specialist and needs to be used as such. As for Teemu, the plan moving forward is having him play a top nine role and be a regualr contributor on the Oilers power play...so how about he be given another chance on the man advantage? He was good last season in that role and demonstrated that he had a nice set of hands in tight. Again, have Smyth mentor him over the last twenty-one games and let the kid develop.

While there is no perfect scenario for what the Edmonton Oilers should do over the final part of their 2011 - 2012 campaign but the focus must remain on the development of their young players. Be it in Edmonton or Oklahoma City.