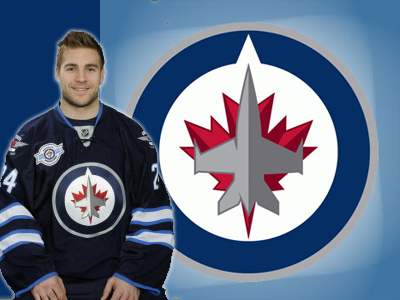 Winnipeg - March 8, 2012 - Kevin Cheveldayoff has said from the get go that the Winnipeg Jets will be a team building for the future. He made that evident when he drafted Mark Shiefle, who was relatively unknown to most fans. And look how he turned out. Yes, I understand we have not even come close to scratching the surface with him, but let's get serious people, he looked pretty good. Then there's Johnny Oduya, he is a good puck moving defencemen but the cap hit of 3.5 million was not what the Jets had in mind. Chevy has also made some waiver claims that may or may not have a long-term effect. Miettinen has not scored, and for a player with skill, he sure ain't showing it. Brett Maclean…ya nobody remembers him either. This brings us to the new guy, Grant Clitsome. He may not be a game changer like Byfuglien or as reliable as Enstrom, but he does bring something to the table, what that exactly is, I'm not sure…yet.

I did some research on Clitsome and it turned up a little dry to say the least. Last season with the Blue Jackets he totalled 19 points in 31 games, but then also played 31 games with Springfield Falcons in the AHL and notched 15 points in 32 games. These numbers are not flashy by any means but when a defencemen is producing at roughly half a point per game, that is gravy. Scott Howson, the "genius" that he is awarded him with two-year deal with a cap hit of 1.25 million. For a guy who was drafted in the 9th round, not bad. But when the Blue Jackets acquired Jack Johnson from the Kings, this made Clitsome expendable.

Clitsome debuted for the Jets in a crucial game against the Sabres. He paired up with Ron Hainsey and ended up finishing a -1. But we won 3-1, so we can overlook that. The Buffalo goal was a fluke, I am placing no blame on the new guy. The one thing that stood out to me was his ice time. He logged just over 19 minutes, which is great considering we have lost Bogosian for who knows how long. Clitsome moved the puck well and was more or less responsible in his own zone. No complaints about the debut from this guy.

As we come down the home stretch we need to look at guys like Clitsome to log minutes. We are missing our main workhorse in Bogosian and we don't know how long he will be on the mend. Clitsome has shown in the past that he can create offense and as far as I'm concerned, it's all a bonus if he can help contribute in that department. For the long-term plans, the 28-year-old is just beginning a stable career in the NHL and I see no reason why the Jets wouldn't keep this guy around. He is a small cap hit who has potential. But if his play slips, then back to waivers he goes.