| | |
| --- | --- |
| | |
Lecavalier to wear number 44 with the Montreal Canadiens?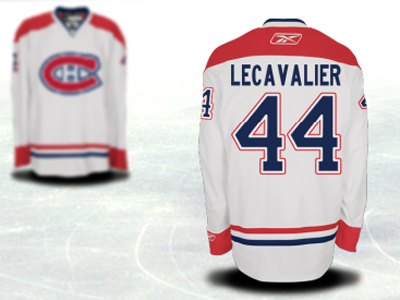 Stoney Point - July 1, 2013 - If Vincent Lecavalier ends up signing with the Montreal Canadiens, he won't be wearing his familiar number four jersey. As everyone knows, that number was retired by the Habs to honour the great Jean Beliveau. Lecavalier wears number to honour Beliveau and legendary Boston Bruins defenseman Bobby Orr. I am willing to bet that if he ends up in Montreal, a deal will be made with Davis Drewiske and he will wear number 44.

- Speaking of numbers, lets take a look at the situation in Pittsburgh. Sidney Crosby wears number 87 and has an $87 million contract. Kris Letang wears number 58 and just signed a $58 million deal. If I am Jake Guentzel, who was the Pens highest selection in today's draft - I would ask to wear number 98.

- Seems like summer has just started, but ten Sundays from yesterday is the Kick-off to the NFL season. No more excuses Jay Cutler!

- Congratulations to Windsor Spitfires forward Kerby Rychel and his first round selection to the Columbus Blue Jackets. A few more picks and man Leafs fans in this part of the province would have been thrilled. A great story this morning on NHL.com by Tal Pinchevsky about Kerby and his Dad, Warren. You can read it by CLICKING HERE.

- I tend to think about what number a player will wear when he joins his new team. Jut checked and nobody has number 16 assigned in Columbus. As many know, this is the number that Rychel wears for the Spits. If that doesn't work out, the guy that used to wear 61 is in the Big Apple.

- Kerby will join another South Western Ontario boy, Boone Jenner, on the Blue Jackets. HERE is another good story from NHL.com.

- Maple Leafs made a trade yesterday picking up Dave Bolland from the Stanley Cup Champion Chicago Blackhawks. Bolland, who is from the Toronto suburb of Mimico, Ontario, scored the Stanley Cup-clinching goal for the Blackhawks six days ago. He also won the Stanley Cup with the Blackhawks in 2010. Good pick up for the Leafs who needed some depth at centre.

- Bolland has worn number 36 for his entire career in Chicago. Carl Gunnarsson currently wears 36 for the Maple Leafs, so Bolland will likely go with a different number. Bolland also won a Memorial Cup with the London Knights where he wore number 91 – so that might be a possibility.


3,471 Stories & Growing Daily...

To date HometownHockey.ca has posted a total of 3,471 hockey stories!

Be sure to check out our Columnists archives or, why not Contribute a Story yourself!



HometownHockey.ca

offers a very generous revenue sharing opportunity for our Columnists. If you are interested in learning more details about writing for us, please send us an

EMAIL.
Click on Photo or Story Title for more info
HometownHockey.ca News Database Last Updated:
Jan. 20, 2023 @ 4:29 AM EST