| | |
| --- | --- |
| | |
With Horcoff gone, will Yakupov switch to number 10?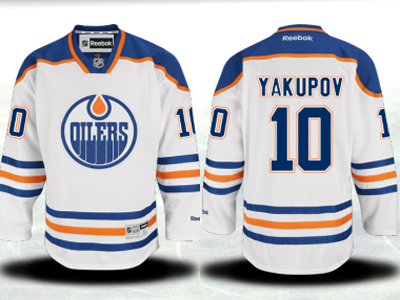 Stoney Point - July 4, 2013 - Now that the Edmonton Oilers have traded captain Shawn Horcoff, will Nail Yakupov switch to his familiar number 10 from his junior days with the Sarnia Sting? On another note, it sure would be nice to see former Windsor Spitfires star, Taylor Hall get the C sewn on his jersey.

- Gotta love how Mikhail Grabovski thinks his contract buyout was solely the fault of Toronto Maple Leafs Head Coach Randy Carlisle. He sure went off on his coach - ""I play in the [expletive] Russian KHL, I make lots of [expletive] points and what's going to happen? He make me [expletive] play on the fourth line and he put me in the playoffs on the fourth line and third line again," Grabovski said. "Yeah, I don't score goals. I need to work more about that. I know that. But if you feel support from your coach [you'll find success]. I don't feel any support from this [expletive] idiot." Good luck in the KHL Mikhail.

- Jarret Stoll of the Los Angeles Kings ended up in hospital recently after taking a seizure. Having witnessed my fair share of seizures, they are not a lot of fun. Here's hoping it is a one-off for Stoll and that will be his only episode.

- David Clarkson would look good in Blue and White. Here's hoping that Dave Nonis can sign the 30 goal scorer, who also has a gritty side. At the trade deadline, many Leafs fans would have endorsed a one for one deal of Grabovski for Clarkson. It just may come true tomorrow.

- I can't imagine that Daniel Alfredsson would play anywhere other than back in Ottawa with the Senators. The most recent scenario was trying to picture Brian Urlacher in a different jersey other than his Chicago Bears silks.

- We sat and had lunch today on Windsor's waterfront and looking across the Detroit River, it was hard not to think about how easy it would have been for Kerby Rychel to play at the Joe Louis Arena. I still wanted him with the Maple Leafs, but I wonder if he had quietly wished he might end up playing in the Motor City?


3,471 Stories & Growing Daily...

To date HometownHockey.ca has posted a total of 3,471 hockey stories!

Be sure to check out our Columnists archives or, why not Contribute a Story yourself!



HometownHockey.ca

offers a very generous revenue sharing opportunity for our Columnists. If you are interested in learning more details about writing for us, please send us an

EMAIL.
Click on Photo or Story Title for more info
HometownHockey.ca News Database Last Updated:
Jan. 20, 2023 @ 4:29 AM EST