| | |
| --- | --- |
| | |
Losing hurts - but losing to the Packers really hurts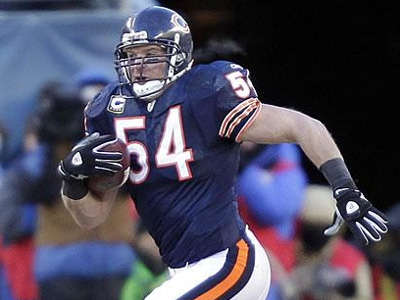 Cornwall - Jan. 24, 2011 - I have been a Chicago Bears fan since the early 1980's. I became a Bears fan watching the great Walter Payton and even remember one game when he started in the QB position. When I first became a Bears fan, there had been lots to cheer about, because as you will remember the Bears were very dominant in the early to mid 80's under coach Mike Ditka.

There have been many tough years for Bears fans over the last 25 years. We have seen a lot of losing - kind of like my Leafs, but that is another story. I have really grown to like and admire current Head Coach Lovie Smith. He brought the Bears to the Super Bowl a few years ago and was within a game of the big dance again this year. Imagine the joy and excitement for Bears fans when Devin Hester returned that game's opening kick-off back for touchdown.

At the beginning of the season, had you polled Bears fans and asked them if they would have envisioned a team that would win its division, become the second seed in the conference and advance in the playoffs to be only one win shy of a trip to Dallas - not many would have argued that this would have been considered a successful season.

So, in retrospect I suppose I should be happy with the season - but it is hard not to be disappointed after your team gets knocked out. Losing hurts - but losing to your long time rival Packers hurts even more. As they say if losing doesn't hurt - than winning meant nothing.

Beating the Packers on home field for a trip to the Super Bowl is like a dream come true for the Bears - but it wasn't meant to be. Jay Cutler and the offence sputtered most of the first half and then Cutler wasn't able to return for the second half. In comes second stringer Todd Colllins, who put on a brutal show. Lovie then switched gears and brought in the third QB in Caleb Hanie. What a spot for the young kid to be in, but at least he moved the ball.

With defensive and specialty team units as strong as the Bears have, they always give the Bears a chance - even in games when the offence is not moving the ball. Julius Peppers, Brian Urlacher, Lance Briggs and the rest of the Monsters of the Midway, kept this game close - one that shouldn't have seen the Bears with a chance to tie it up with 44 seconds left to go.

I enjoyed seeing Brett Favre have a tough season. I enjoyed seeing Peppers drill Aaron Rodgers. I hope to enjoy seeing the Packers lose to the Steelers too. Most of all, despite a tough finish, I have enjoyed sitting down on Sundays to watch my beloved Bears.

Not much better than good company, good eats, a few pops and the Bears on TV. Okay, maybe a trip to the Super Bowl for the Bears instead of the Packers would have been better. As Bears fans often say - there's always next year!

BEAR DOWN!
8,399 Stories & Growing Daily...
To date OurHometown.ca has posted a total of 8,399 stories! News, sports, hockey, lifestyle, opinion and more!

Be sure to check out our Contributors and Columnists archives!
Click on Photo or Story Title for more info
OurHometown.ca News Database Last Updated:
Dec. 31, 2021 @ 8:03 AM EST