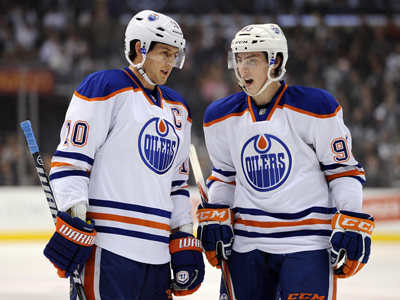 Edmonton - May. 19, 2013: When Craig MacTavish decided to take on the role of General Manager for the Edmonton Oilers, he knew there would be some difficult decisions ahead of him. With the NHL Entry Draft and Unrestricted Free Agency quickly approaching, many of those tough choices will be made over the next few weeks and most certainly revolve around the future of captain Shawn Horcoff. FULL STORY
Edmonton - May. 18, 2013: Today marks the 25th Anniversary of the opening game of the 1988 Stanley Cup Final between the Edmonton Oilers and Boston Bruins. It was a series that would put the finishing touches on what was arguably the most dominant single playoff run in Oilers history and ultiamtely earn them their fourth championship in five years. FULL STORY

Should the style of game the Edmonton Oilers play ultimately matter?

Edmonton - May. 17, 2013: The Edmonton Oilers will once again be looking to improve their roster during the coming off-season, in hopes of getting back to finally being a perennial playoff team. With that being said, does a team featuring the likes of Taylor Hall and Nail Yakupov, owe it to their fans and the league itself, to play a free-flowing style of game? Instead of your run-of-the-mill boring NHL defensive game. FULL STORY
Edmonton - May. 17, 2013:
On the strength of a Fredrik Pettersson shootout winner and a stellar performance from netminder Jhonas Enroth, Sweden managed to pull off the quarterfinal upset at the 2013 IIHF World Championship, beating Team Canada 3-2 in a shootout. Edmonton Oilers forward Jordan Eberle was the lone skater to beat Enroth in the shootout.
Edmonton - May. 14, 2013:
Heading into the 2013 IIHF World Championship, Edmonton Oilers netminder Devan Dubnyk looked to have a realistic shot at earning the job as Team Canada's starter. Unfortunately for the Oilers tender, he did not make the most of the opportunity and looks as though he will Canada's #2 behind Mike Smith, heading into quarterfinal action.

Edmonton - May. 13, 2013:
The Portland Winterhawks stormed back from an early deficit, scoring five unanswered goals, including a hat-trick performance from Playoff MVP Ty Rattie, en route to 5-1 victory over the Edmonton Oil Kings. The win clinched the Winterhawks first Western Hockey League crown since 1998, a year in which they also took home the Memorial Cup as the top team in the CHL.
Edmonton - May. 12, 2013:
Seldom used Carolina Hurricanes forward Jeff Skinner played the role of hero for Team Canada on Sunday afternoon, scoring early in period three and propelling Canada to a crucial 2-1 over the Czech Republic at the 2013 IIHF World Championship. Netminder Mike Smith stopped thirty shots in earning his second victory and improving upon his tournament leading .952 SV%.
Edmonton - Apr. 3, 2013:
Justin Masterson out-dueled R.A. Dickey, scattering three hits over six solid innings of work. While shortstop Asdrubal Cabrera proved to be a difference maker, at the plate and in the field, leading the Cleveland Indians to a surprising 4-1 victory over the Toronto Blue Jays, in both team's 2013 season opener.
Stoney Point - Mar. 21, 2013:
No doubt, an NFL General Manager can't please everyone as there are a lot of tough decisions to be made. In his short tenure as the GM of the Chicago Bears, Phil Emery has made some good moves and some bad ones. Not finding a way to sign Pro Bowler Brian Urlacher is his most glaring goof up.

Chicago - Mar. 21, 2013:
On Wednesday afternoon, the Chicago Bears issued a press release stating that legendary Middle Linebacker Brian Urlacher will not be returning to the team in 2013. The only team he has known and for which he played for 13 seasons. The first legitimate, lasting superstar player the Bears had drafted in probably 17 years.
Edmonton - Mar. 5, 2013:
Through fifty-five minutes of play, Manchester United had employed their game plan to perfection against Real Madrid in the second leg of their Champions League matchup. That all changed in the fifty-sixth minute, when Nani was inexcusably shown a red card by referee Cuneyt Cak?r, turning the tide in Madrid's favour and their eventual 2-1 Madrid victory at Old Trafford.


3,892 Stories & Growing Daily...
To date OurHometown.ca has posted a total of 3,892 stories! Events, news, sports, lifestyle, opinion and more!

Be sure to check out our Contributors and Columnists archives!