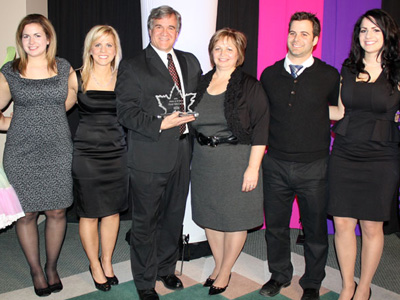 Cornwall - Feb. 20, 2011 - Rod McLeod was, needless to say, surprised, honoured and very grateful after being named the 2010 Cornwall and Area Chamber of Commerce Citizen of the Year. McLeod, a longtime champion of girl's hockey in Cornwall and area, has also spent the better part of his career working with youth as an educator. The look on his face when he realized a few lines into the biography being read for Citizen of the Year was his was, as would be expected, priceless. McLeod was further surprised when his children joined him centre stage as he walked up to accept the COY award.

I know I wasn't the only one trying to guess, by who was at the event, who would earn the COY honour. As every year, there are several names that come to mind but in the end, there can only be one winner.

A tip of the hat to Rod, well deserved. And for anyone that's ever had the pleasure of working with him, this does not signal the end of his work but rather the proverbial turning of the page and the beginning to the next chapter of his career.

The Chamber of Commerce board of directors and all their staff deserve kudos for hosting a great gala evening. Chamber President Rick Shaver was smiling like a Cheshire Cat as the list of award winners was read, and deservedly so.

John and Valerie Markell were bestowed with the Lifetime Business Achievement award. Like McLeod, the Markell's were honoured and surprised as they thanked the community, their family and friends for decades of support. As John spoke, I couldn't help but think of the line from the movie Field of Dreams, "If you build it, they will come." JF Markell Homes takes that saying very literally.

The 3+1 Committee, headed by Scott Lecky, picked up the Breakthrough award for raising more than $2.4 million as the community portion of the financing for the Benson Centre.

Stewart Bags was tagged as Entrepreneur of the Year.

The Industry of the Year was Sigma Point Technologies while Minimax Transport was named Business of the Year.

Bourgon and Associates took home Small Business of the Year.

The Skills Development award went to St.Lawrence College. Delaney Bus Lines earned the Above and Beyond award.

With more than 250 people in attendance, a great meal, excellent entertainment from a circus troupe and a great list of winners, the 23rd Business Excellence Awards and 39th Citizen of the Year Banquet can be labeled a success.

Glad I was there.