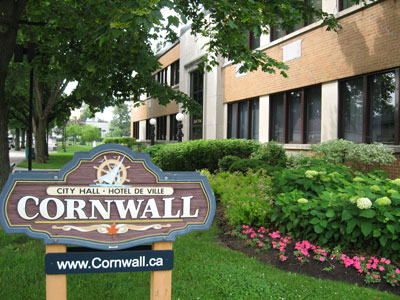 Cornwall - Mar. 8, 2011 - What are we willing to pay for? That's the question I've asked any Cornwall resident that has asked me about their taxes for 2011. I've responded to some e-mails but mostly have had quite a few face to face conversations about tax levels in Cornwall.

I respect and would like to commend the Community Action Group for their presentations to City Council over the past few meetings. The group, which has a membership of between 250-300 people so far (I believe), has ensured their presence at recent City Council meetings as well as Budget Steering Committee gatherings. Whether they're making a presentation or not, their leading voices, consisting of Sandy Cameron, Dave Enns and Roy Perkins have been very vocal about concerns over tax levels, especially when we're compared to other Ontario municipalities.

City of Cornwall Chief Financial Officer Maureen Adams and her team accepted the CAG's concerns and did some of their own research which Council was presented with.

Bottom line is we're on the right path because as of 2009, based on a $129,500 property, an average household (income $58,000), we paid 4.4% in property taxes. The CAG is asking we lower that to 4.1%. Considering we were much higher just a few short years ago, I'm confident in saying we're doing something right and on the right path.

But back to the question of "What are we willing to pay for?" Does everybody use Cornwall Transit? No. Is a necessity in a city the size of Cornwall? I say yes. Are we comfortable with our current trash and recycling programs? Could we increase our ability to recycle? Yes and not at any cost. Should we have our own police force and full time firefighters? I'm a fan of both. Again, it's about the size of our municipality and needs to ensure we have the foundation and infrastructure to grow. Does that mean an unlimited taxation level? NO! Council retains the ability and desire to revisit all areas on a regular basis and we continue to decide on what's nice to have and what we need and how much it all costs.

Finally, I cringe when City of Cornwall taxes are compared to neighbouring municipalities (South Stormont and South Glengarry). Do they pay less in taxes? Probably, yes. Do they have the infrastructure and programs that the City does? NO! It's the old "apples to oranges" argument. Full water and sewer, transit, trash and recycling, street lights, full time firefighters, more and larger recreation facilities and programs are just some of the amenities we as Cornwall residents enjoy. So, what are you willing to pay for?

As always, your comments and concerns are welcomed via e-mail dmurphy@cornwall.ca.