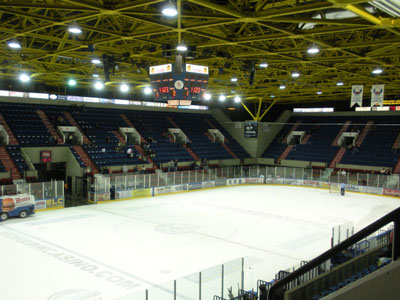 Cornwall - Jan. 25, 2011 - A couple of thoughts sprang to mind after taking in the Akwesasne Warriors' one-night homestand at the Cornwall Civic Complex on Saturday night.

Thought number one: I miss the Comets.

To some, the short-lived Quebec senior hockey team resembled little more than professional wrestling on skates, but to many others - this hockey fan included - it was much more than that.

Sure, the games featured staged fights and crazy antics (who can forget Paul Shantz chowing down a hotdog in the penalty box?), but really, that was all part of the mystique that surrounded the team. It was a brand of hockey you couldn't find anywhere else. It was like watching Slap Shot in real life. And the fans loved it. Whenever the Comets played, the civic complex came alive.

Watching former Comets captain Pat Deraspe and the rest of his Warriors teammates face off against the Danbury Whalers on Saturday, you couldn't help but think back to the Comets. The game - won 5-1 by the Warriors - featured some nice goals, some big saves, a couple of fights and a group of dedicated hecklers to keep things interesting after the whistles. What's more, there was a good crowd on hand for the game, with an announced attendance of 1,435.

Which brings me to thought number two: I wish Cornwall had a major junior hockey team again.

We certainly have the space for it. Thanks to the new low-level seating, the civic complex now has more than 5,000 seats, making it more than adequate to host a major junior team.

Which leads to the big question: Do we have the people to fill the seats? Given the past disappointments and failures with the Royals and Aces, it could easily be argued that Cornwall simply doesn't have a large enough fan base to support a higher level of hockey.

That could be true, but consider this first: More than 1,435 people turned up at the civic complex Saturday on fairly short notice to take in the Warriors game, while two nights earlier, 1,230 fans showed up for the Colts game. And having attended both teams' games this season, I can say with certainty that for the most part, they are two different crowds of fans.

It may not sound like much until you look at the situation is some other places. On the same Saturday night, a QMJHL game in Acadie-Bathurst drew 1,330 fans. On Jan. 20, a home game for the PEI Rocket - a franchise that almost ended up in Cornwall several years ago - had an announced crowd of 1,711. On Sunday, the OHL's Kingston Frontenacs had 2,228 fans on hand for an afternoon contest in their brand new arena.

Could Cornwall support a major junior hockey team? Maybe not.

But I can keep dreaming.