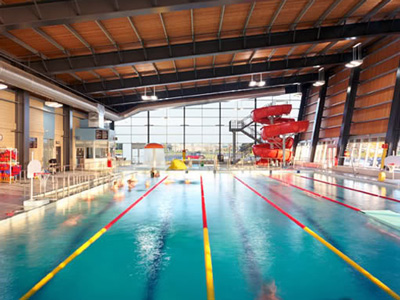 Cornwall - Jan. 31, 2011 - Of all the city employees I've met over the years, Kayla is one of the nicest.

Kayla is a lifeguard at the Cornwall Aquatic Centre, and she brings a great deal of enthusiasm to her job. That enthusiasm came in handy on Saturday when my wife Candice and I visited the pool with our nine-month-old son Canaan for his weekly swimming lesson.

Usually, there's about a dozen parents (most of them women) in the water with their babies, but on this Saturday, there were only four of us.

Four men.

There we were, four men spinning around in the pool with our babies singing "The Wheels on the Bus." To make matters worse, the other classes hadn't started yet, so basically all eyes were on us.

Needless to say, our rendition of the song didn't score very well in the way of pitch and presentation. Fortunately, Kayla was there to keep the song from falling apart. She also bailed us out on "The Fishy Wishy Song" and a couple of others.

Candice later told me that she thought it was a nice moment to see a group of dads spending time with their babies. Also, Canaan and the rest of the babies didn't seem to mind one bit, so maybe the sing-a-longs weren't as bad as I thought.

Either way, I think I'll spend some time rehearsing "The Fishy Wishy Song" just to be safe.

* * * *

Hockey fan or not, you should make a point of attending a Colts game this season.

The roster is one of the deepest that the Colts have had in some time, and for the first time in several years, they have a serious shot at winning the league title.

The latest rankings from the Canadian Junior Hockey League (released Monday) have the Colts ranked as the fifth-best Junior A team in the country.

* * * *

St. Lawrence College journalism students Khadijah Vakily and Sara Murphy have created a great mini-documentary on the Cornwall Canal, which was partially filled in following the creation of the St. Lawrence Seaway.

The piece explores the history of the canal and the possibility of bringing it back to life in the future. It made it onto the big screen at this year's Aultsville Theatre Winter Film Festival.

If you have the time, be sure to check it out.