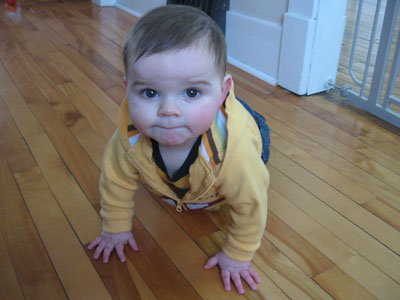 Cornwall - Feb. 6, 2011 - My wife Candice was in the midst of feeding our baby boy Canaan yesterday when he suddenly reached for the spoon and made a messy attempt at feeding himself.

That moment pretty much sums up life with Canaan these days, as each sunrise seems to bring with it a new milestone for the little guy.

Canaan turned nine-months-old today, but it certainly hasn't felt nine months. It seems like just a short time ago he was giving it his all just to roll over onto his belly. Now he's crawling around the house like a little man on a mission and pulling himself up on just about anything within reach.

Fortunately, we've been pretty lucky with Canaan (knock on wood). He's a good camper when it comes to taking his naps and sleeping at night, although the last couple of weeks have been a little tricky due to teething (which reminds me, I feel like I now owe my parents an apology. So, sorry mom and dad).

Along with watching him grow, it's also neat to watch myself grow as a parent. At first, I was nervous about fairly simple parenting tasks like changing his diaper, bathing him and even holding him. Now, nine months later, my biggest worry is whether I'm squeezing his sides too hard when I try to make him laugh.

Funny thing is, at one time, I couldn't picture myself with kids. Now, I can't imagine what life would be like without him.

* * * *

By the way, for those of you who read my last column, I should let you know that there was a full house - both moms and dads - on hand for this week's swimming class, and the songs sounded great. I wasn't singing loudly, so that probably helped.

* * * *

Well, it finally arrived today, at 8:14 a.m. to be exact.

The "it" is my "I'm completely sick of winter" moment, and it came to me as I looked out my window this morning to see yet another blanket of snow covering my driveway.

I figured I'd shovel after I got back from doing the groceries, but my vehicle got stuck while pulling out of the driveway. Ugh.

Before that, I stepped out on my back porch and within seconds, a black squirrel came running down one of the branches on our maple tree, sending a wave of snow in my direction. Yes, I got snowed by a squirrel.

On the bright side, shovelling snow was made easier after I finally went and picked up one of those weird-looking curved shovels at Canadian Tire. I can't believe I lived without one for so long.

For me, the only good thing about winter is hockey. I can live without the rest.

* * * *

The Windsor Star recently ran an interesting story about former Cornwall Royals star Robert Savard, who is the only junior hockey player to have ever won three Memorial Cups in a row.

Savard was part of the Royals clubs that won back-to-back Memorial Cups in 1980 and 1981. He was then dealt to the Kitchener Rangers the following season, where he won his third straight title.

For local hockey fans, Savard is best remembered as the player who scored the winning overtime goal to complete the upset against the Peterborough Petes in the 1980 Memorial Cup final.

"Being the underdog, winning in overtime, that was the most exciting thing out of all the Memorial Cups," Savard told the newspaper.

You can read the whole story by click here.