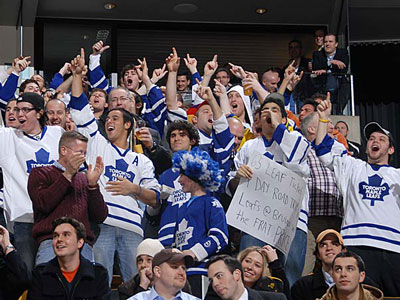 Cornwall - Apr. 3, 2011 - For better or worse, I am a member of Leafs Nation.

My favourite Leaf growing up was Eddie Olczyk although thinking back now, I can't remember a single goal that he scored.

I remember the non-call against Gretzky and the eventual loss to the Kings in the 1993 conference finals – the last real chance Toronto had to win the Cup.

Most of all, I remember many disappointing nights, nights when I wished I wasn't a Leafs fan.

Saturday night wasn't one of them.

My dad and I had tickets for the Leafs-Senators game in Ottawa, and I was anxious to see the Leafs defeat their provincial rivals in the sixth and final Battle of Ontario this season. I put on my Leafs hat (the Olczyk jersey no longer fits) with the intent of making a fashion statement in enemy territory. Turns out I underdressed.

The enemy territory at Scotiabank Place was anything but hostile as thousands of Leafs fans turned the arena into a sea of blue and white.

There were Leafs jerseys everywhere. Some wore capes and waved blue flags. Others donned blue wigs and white and blue face paint. For a Leafs fan, it was a beautiful sight.

We were seated in the 300s, but despite the nosebleed height, the view of the ice and the atmosphere was great. We were surrounded by Leafs fans, and there was one particular group who were being loud, arrogant and slightly obnoxious – and I loved every minute of it.

We felt like we were part of the game, especially when the giant Canadian flag – a staple at Sens games – made its way toward us during the national anthem. Suddenly, we were lifting the giant flag and passing it along for all to see.

We cheered when the Leafs scored – starting with a beautiful opening goal from Kessel – and booed when the Sens scored. We sang along with the "Go Leafs Go" and "Reimer, Reimer" chants that echoed through the arena as the Leafs skated to a 4-2 win to keep their faint playoff hopes alive.

Barring a minor miracle, the Leafs will be officially eliminated from the playoff race in the next few days. That will be followed by a new round of talk about another failed season for Toronto and another year without the Cup. For fans, it will mean putting up with more jokes about cheering for a perennial loser.

But on Saturday night, that didn't matter one bit. On this night, the Leafs were a good team, and I was happy to be a Leafs fan for a change.