Cornwall - March 13, 2012 - Tulips are one of the most popular bulb flowers, always eye-catching and commanding your attention. They offer a wonderful variety of colours and shapes that will put on grand displays in any garden, leaving a lasting impression by their beauty.

There are so many types of tulips, each has its own blooming schedule (early, mid, or later), and its own growing height (short, medium, or tall).

Tulips can be singles or doubles. Some will have very striking two or three colour combinations. As shown through my camera lens in the accompanying photographs, the petals can have different designs such as frilled edges, pointed edges, mottled edges, long petals or shorter petals; while others may be accented with spectacular veining or colour strokes looking like they have been dabbed with a fine paintbrush. Multi-flower tulips produce several flowers on a stem.

Tulip bulbs are planted in the fall about five to six inches from the soil surface. Planting the same type and colour of tulip in a cluster or in close proximity can provide a much stronger visual presentation. Cities often plant their large flower gardens in this manner, and home gardeners can as well. An appealing contrast to this planting plan is to add a mixture of types and colours interspersed between clusters of the same colour and type.

If you are planting bulbs, it may be helpful to mark the locations with labelled popsicle sticks or create a sketch drawing of the garden, otherwise in the future it may be difficult to remember where each bulb, cluster, or tulip type has been planted.

Bleeding hearts have lines of heart-shaped flowers on their stems, the regular colours are reddish pink and all white. A plant of distinction; close observation of each heart makes us realize just how astonishing nature can be to produce such a work of exquisite art. Although the photograph shows only a few bleeding hearts, the entire plant was an impressive 36 inches high and 36 inches wide.

Trilliums will adorn the woods in staggering numbers. Early violets with their small dainty flowers cover the ground nicely in the garden, but if allowed, they can spread fairly rapidly and choke other plants. They are well anchored in the soil, and aren't the easiest to thin out. Even after thinning they will continue to spread.

As the temperature continually warms, perennial flowers will come along quite nicely.


Red Tulips with yellow edges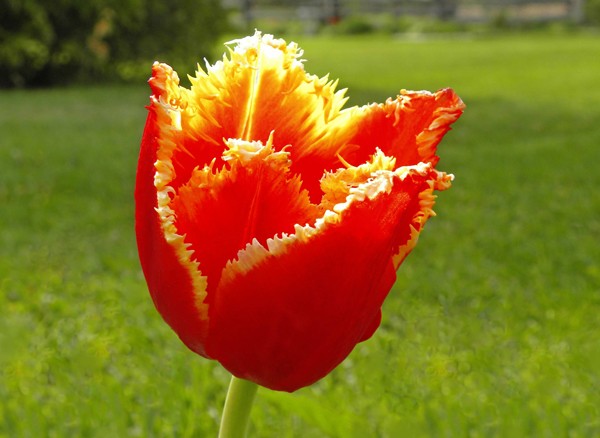 Bi-coloured Tulip with frilled edges


Bi-coloured Tulips


Light Maroon Tulips


Bi-coloured Tulips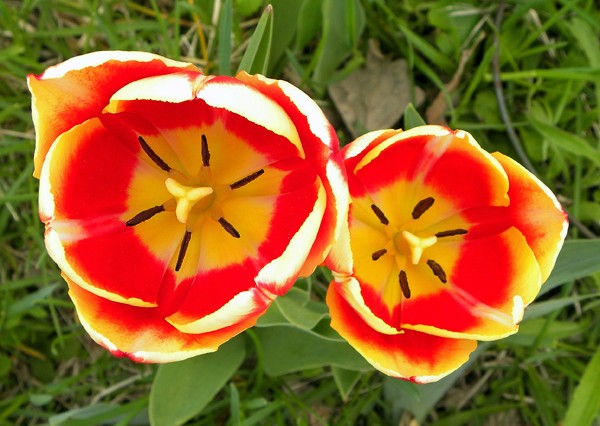 Looking Down into the Tulip flowers


Yellow Tulip with triangular outer petals


Bleeding Hearts


Trillium


Violets