| | |
| --- | --- |
| | |
Perennial Blooms - Segment Three
Cornwall - March 16, 2012 - Lilac bushes will attract butterflies with their masses of flowering bunches, and deep fragrance that fills the air around them. It's so nice to stand near lilacs enjoying the wonderful aroma and blossoming clusters. Colours usually observed in this area are shades of purple, pink, and white.

A couple of things one can do to maintain lilacs is to remove old main branches close to the ground; and snip off finished blooms using garden hand scissors without removing the nodes at the base of their soft stems because the following year's growth generates from them.

Lily of the Valley is noted for the nice smell unique to the flowers on this plant. It has a main stem from which protrude several short slender stems each holding a tiny delicate bell-shaped flower that hangs on a downward angle. The flowers are generally white, although pink is another colour. The plant has green leaves, and stands about six to ten inches tall. It tends to like shade or partial shade, and it can spread well in the garden.

Peony plants, with their own attractive scents and numerous blooms, come in shades of red, pink, and white; as well as bi-colours and even tri-colours. Some have yellow centers. The peony flower can grow up to seven or eight inches in diameter. They can be singles or doubles, the latter are very full and heavy, and they remind us of gigantic roses. Placing wire cages around the plants as they grow helps the heavy blooms stay elevated and prevents the stems from snapping.

One of my photographs included in this article features beautiful tri-coloured peonies having white outer petals, light yellow petals flowing toward the center, accented with red streaks in the middle.

Peony plants, bleeding hearts, and lilacs can be purchased in the spring from local garden centers or outlets. Depending on the maturity of the plant, it may not produce many blooms the first year.


Lilacs


Lilacs


White lilacs


Red peony with yellow center


Tri-coloured peonies


Pink peony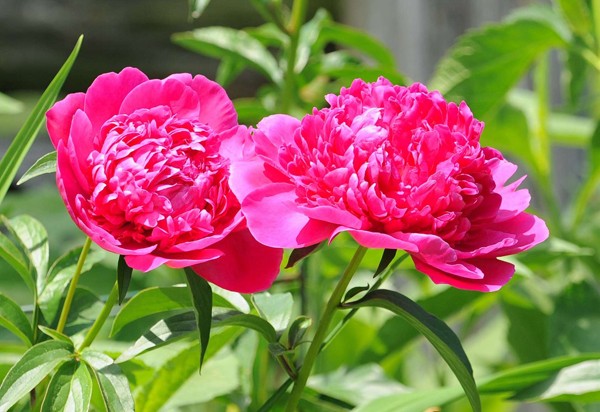 Red peonies


8,401 Stories & Growing Daily...
To date OurHometown.ca has posted a total of 8,401 stories! News, sports, hockey, lifestyle, opinion and more!

Be sure to check out our Contributors and Columnists archives!
Click on Photo or Story Title for more info
OurHometown.ca News Database Last Updated:
Dec. 31, 2021 @ 8:03 AM EST