Cornwall - April 12, 2012 - Soon it will be time to buy flowers for the garden, planters, and urns. With so many varieties available, garden enthusiasts can look forward to a wonderful selection. Annual flowers last the growing season, unlike perennials that can endure over several years or indefinitely, and biennials which last two years. Fuchsia is a spectacular stand-by which hummingbirds love, and it is the first of nine photographs featured.

The fuchsia plant pictured is red and purple in colour and set in an urn; but it would look equally as stunning in a hanging basket. Fuchsia seems to like partial shade. The plant comes in many appealing colours including purple and red, purple and white, white and red, red and white, pale pink, salmon pink, two shades of pink, pink and purple, white and pink, mauve, and pastel pink, etc. Petunias are another sure winner. Not only are they easy to grow, but there are several petunia types to suit every possible garden or planter, each type has its own seemingly countless numbers of solid colours and bi-colours. A few petunias are pictured: maroon with dark veining, deep pink with yellow throats, Sugar Daddy with a large bloom and heavy veining, a blue petunia with dark throat and some veining, and purple Wave petunias.

Some of the different types of petunias available are as follows. The milliflora petunia stands 8 to 10 inches high, and produces 1" to 1 1/4" blooms; great for flower beds, hanging baskets, and large containers. The double petunias are ideal for the same purpose, averaging 12 inches in height, and the fully double blooms are 3 1/2 inches. The cascade petunias have fully double 3 1/2" blooms, and they branch out from the base approximately 12 inches in length to provide super ground cover. If the cascade petunias overgrow, one can cut the plants back a bit and they will branch out again. Grandiflora petunias produce 3 1/2" to 4 1/4" blooms with a wide variety of colours; some are veined and bi-colours. Multiflora petunias produce masses of flowers, for example, the Wave petunia that grows 6 inches and spreads close to two feet in length which provides an outstanding arrangement for hanging baskets, planters, or window boxes.

Portulaca is a great border plant with its brilliant colours. It also makes a nice accent around the edge of a large urn. Planting several portulaca plants six inches apart will create a carpet of vivid colours later on. As shown in the photograph, the colours are numerous including vibrant cherry pink, yellow, white, pale yellow, orange, etc. One year, I had a bi-colour portulaca that was white with deep pink mottling. The double blooms are particularly attractive making an impressive visual impact from near and far. The stems and green foliage are rubbery. To prevent plants from going to seed, gardeners can carefully pry the spent flowers from the plants each day using finger nails. If a few portulaca flowers are allowed to go to seed, the seeds may produce new plants the following year if the soil isn't disturbed.

Marigolds always put on strong showings, and are easy to maintain. They are available in all sizes, from the eight inch border plant with a bloom size of 1" to 1 1/2", right up to the big ones that are nearly three feet tall sporting gigantic blooms three inches in diameter. The customary colours are yellow, gold, and orange; and some types offer bi-colours as shown in the photograph. Picking the spent blooms each day is a good practice.

Impatiens like moist soil, and prefer half-shade or shade. Depending upon the variety, they can grow from 5 to 8 inches in height, and others can reach 12 inches. Some plants produce double or semi-double flowers, and many impatiens tend to spread. Impatiens have a wide range of colours including light pink, pink, pale pink with darker eye, white, lilac, red, lavender, rose, violet, violet with white star, salmon, orange, and I have experienced a red bi-colour. This flower plant looks terrific in hanging baskets, in containers, and in the garden.

When the time comes to plant flowers, it is beneficial to water the plants in their original flats or containers before they are transplanted into the garden, planters, or urns. This will keep the soil moist around the roots. Additionally, after transplanting has been accomplished, watering the plants once again will keep the new soil placed around them moist and holding firm around the roots and the plants. Care should be taken to water around the base of the plants rather than directly on the plants.

When local garden centers and outlets start displaying their flower collections for this year's gardening season, I think everyone gets a little excited looking at the vast assortment of colours. Buying your favourites each year is fun, but you can be on the lookout for something new and different to try. Happy gardening!


Portulaca (foreground) surrounded by marigolds, petunias, and dahlias


Maroon petunia with dark veining


Deep pink petunias with yellow throats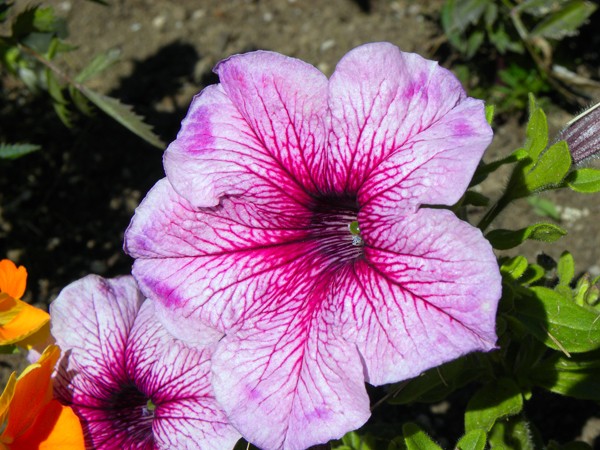 Sugar Daddy petunia with a large bloom and heavy veining


Blue petunia with dark throat and some veining


Purple Wave petunias mixed with red geraniums in a planter


Marigolds as a border plant in this photo


Impatiens in a hanging basket suspended from a tree branch