| | |
| --- | --- |
| | |
Panties and the Holidays
Stoney Point - October 26, 2013 - I meant to write this before Thanksgiving as we hosted family for an early Thanksgiving and I wanted to tell everyone getting ready for the weekend - not to get their panties in a bunch. This article doesn't apply just to Thanksgiving, but any holiday which lends itself to gatherings. I'm all about having everyone over but let's talk turkey ... do the fixings have to have you running around "like a turkey with its head cut off"? (my husband says I'm the only one who thinks I'm funny, but I know that's not true). Do we have to have the traditional spread at the holidays? Does it have to be the big dinner - heck, how about brunch with everyone you love or a wonderful afternoon of gaming, chatting, cocktails and munchies?

Do you see where I'm going with this? -- have everyone over but take some of the stress off your shoulders by thinking outside of the box when it comes to the eats.

I love having company over but I get anxious and start planning well ahead (thus the panty comment). Whether we are hosting two or twelve, I get excited and I start recipe planning and pulling out serving platters and do a lot of talking to myself, while my husband whispers to our son that "mommy has issues". Again, anxious but I enjoy it.

Get creative and keep what you serve simple so you can enjoy your party. It's Thanksgiving or Christmas - so use turkey, cranberries, sweet potato, potato, and apples in your planning but make it easy.

We did dinner for ten the weekend before Thanksgiving, as we were away most of Thanksgiving weekend with friends - which was wonderful. We were back home to host my parents on our beach Thanksgiving day so here are some of my Thanksgiving, dare I say Christmas inspired appetizers - think Thanksgiving Tapas. This allowed for boating, beach and Mommy relaxing with everyone. All nibbles were a hit.

If you would like a copy of the recipes that I created, please feel free to drop me a line by clicking on the email address below.

Cheers!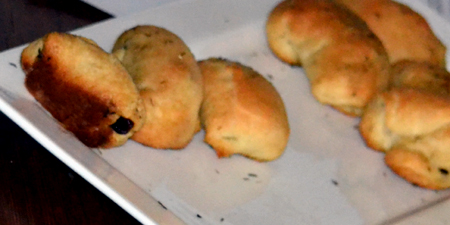 8,400 Stories & Growing Daily...
To date OurHometown.ca has posted a total of 8,400 stories! News, sports, hockey, lifestyle, opinion and more!

Be sure to check out our Columnists archives or, why not Contribute a Story yourself!


OurHometown.ca
offers a very generous revenue sharing opportunity for our Columnists. If you are interested in learning more details about writing for us, please send us an
EMAIL.

Click on Photo or Story Title for more info
OurHometown.ca News Database Last Updated:
Dec. 31, 2021 @ 8:03 AM EST