Calgary - June 23, 2013 - On Sunday June 16th I got up early and took off on my bike for a ride I had been planning to do for quite awhile. Heading North in Calgary along Deerfoot Trail from my home in Dover I rode north over Nose Hill Park and then, knowing it was Father's Day, I gave my Dad a call as I looked out across Calgary to the Rocky Mountains.

Returning to my ride it didn't take me long Before I was at the Bow River and then riding along the Elbow which winds its way south through Calgary. I remember thinking how a year earlier when Sheila and I had moved into Calgary from Strathmore all of the underpasses on the path were closed because of some minor flooding.

Something which is quite typical as the river rises due to melting and runoff in the mountains. I thought how lucky we were that the water level was so low this year. I finished my 105km ride around Glenmore Reservoir, through Fish Creek Park and north back to what Sheila and I call the 'Cliffs of Dover', because it sits high up overlooking the city to our west. Then all hell broke loose.

The Calgary Flood
I can now say I've lived through two natural disasters... the Great Ice Storm of '98 in Eastern Ontario and now The Great Calgary Flood. I can honestly say if you're going to have a natural disaster... pick the ice storm. Ice melts slowly, water gets everywhere and destroys everything in its path.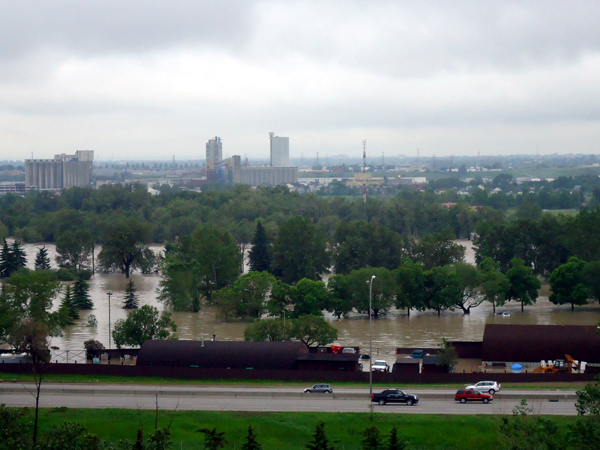 From my vantage point in Dover things seem pretty calm. If I didn't follow the news and log on to Twitter I would probably never know of the carnage to the west of where I live. Only one and a half kilometres away the Inglewood Golf and Curling Club is part of the Bow River. The bike path I rode through much of Calgary only days before is under 10 or more feet of water in places and tens of thousands of my fellow Calgarians are in shelters because of a mandatory evacuation. Places I visit often like Bragg Creek on the edge of Kananaskis country is underwater, Canmore at the entrance to the Rockies is devastated. These are places that are picture postcard perfect and now they're waterlogged beyond belief. As of this writing three people have lost their lives in High River south of Calgary.



Being detached from the flooding I took off on my bike on Friday morning to see if I could make it downtown and get some pictures. It wasn't easy as the paths I usually take were underwater. Winding my way west I eventually got on to 9th Avenue and started seeing the extent of the water damage downtown. Water on some streets was as deep as the hubs on my bike and the water was still rising. People with cameras and smartphones clicked pictures and videos, their eyes wide open in amazement. I stopped to speak to a man who has lived in Calgary for 35 years and he told me he'd never seen anything like it. An underpass at 9th Ave and 4th Street was filled with water, the sign stating 4.5 metre clearance hanging underneath being lapped with flood water. The Enmax building next to it was 10 feet deep in water after the water broke through its windows. 17th Ave leading to the Saddledome was 15 inches deep as we started to hear stories that the arena itself had water up to the 14th row of seats. The Bow River was now so high that the pedestrian walkway hanging under the Centre Street Bridge was almost completely engulfed by the raging river.



The word surreal came to my mind as I rode around Calgary, constantly having to backtrack as streets I had ridden an hour and a half before were now impassable. I've heard other people say it as well. After all this is a major Canadian city that's flooded.



Having now had the experience of these two disasters, the Ice Storm in 1998 and this huge flood, I can rightfully say they have a common thread. The spirit of the people. Like the great people of Cornwall, Ontario where I lived, the people of Calgary are pulling together to pull through. While the devastation is unimaginable, pride in their city and province gives them strength. It's a joy to behold.

In closing, it seems almost surreal (there's that word again) to ask you for your assistance in helping to rebuild Calgary and all the wonderful communities just east of the Rockies, but we need your help. I have no doubt the cost of this flood will be in the billions. If you have a few dollars to give just click the link below. Calgary will rebuild with your help and be better than ever. -
The Canadian Red Cross



One more thing. I was flipping channels at midnight on Friday night when I got to the CBC and they were covering the flood in Calgary. I stopped and watched for a moment and spotted a guy riding his bike into some deep water. He looked familiar. I rewound my DVR and realized it was me. That's the moment when I realized you need to turn around when the water gets as high as your handlebars. The picture immediately above is me just after I waded out of the torrent.