| | |
| --- | --- |
| | |
Brownell speaks outside of Liberal playbook, supports Hudak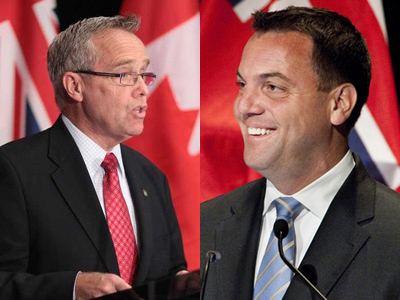 Cornwall - May. 26, 2011 - Ontarians go to the polls on October 6th of this year to elect their next Provincial government. Things are starting to heat up now that the federal campaign is behind us.

Opposition and PC Leader Tim Hudak announced today that if he became Ontario's next Premier, his government would force inmates to earn their keep by picking up garbage along highways and clean graffiti from city walls.

"By putting criminals to work, the taxpayers dollars that used to be spent for that work would be spent on law-abiding citizens and benefits that matter to all of us, like health care," he said. "I'm not asking prisoners to anything more than what hard-working Ontario families do each and every day — and that is, go to work," said Hudak.

Not surprisingly the McGuinty Liberals were quick to jump on Hudak, as has been their practice over the last number of weeks. The Liberals suggested that the "reckless rookie Hudak" had pulled his worst stunt yet.

In the same release the Liberals made an interesting claim when they said that "Ontario Liberals are the only people with a positive plan to keep Ontario moving forward, and that includes protecting our communities."

In reality though, McGuinty has added more to Ontario's debt than any other Premier, despite bringing in the largest income tax increase (health tax) and the largest sales tax increase (HST) in Ontario's history. During his eight years in office, Dalton McGuinty has increased government spending by 70 percent, during which time Ontario's economy has grown by just nine percent.

Is this their idea of a positive plan?

While the Liberal spin doctors were not impressed with Hudak's bold stance, local MPP for Stormont-Dundas-South Glengarry Jim Brownell surprisingly supported the PC Leader's plan.

Canadian Press has reported that Brownell told Cornwall radio station CJSS, "I've always believed that folks in Ontario should be — if they're able bodied and well enough to do work — should be out working and contributing to their communities. I think it's very positive."

Some left-leaning critics have suggested that the PC plan to put inmates to work will hurt the economy because this inmates' free labour will result in job losses.

"Despite whatever contracts may exist, municipalities or different ministries, there's a heck of a lot of garbage along our roads and more graffiti in our cities," countered Hudak.

It is refreshing to see the ultimate team player Brownell speak outside the Liberal play book. Good for him for speaking his mind.

I am sure SDSG voters will be interested to see where Liberal candidate hopefuls Pat Finucan, Mark MacDonald and Denis Sabourin stand on this issue.

With the Provincial election less than 20 weeks away, many interesting discussions and debates will take place. Stay tuned!
8,401 Stories & Growing Daily...
To date OurHometown.ca has posted a total of 8,401 stories! News, sports, hockey, lifestyle, opinion and more!

Be sure to check out our Contributors and Columnists archives!
Click on Photo or Story Title for more info
OurHometown.ca News Database Last Updated:
Dec. 31, 2021 @ 8:03 AM EST